GMB (Google My Business) is probably one of the top free web-based advertising and review platforms right now. Studies show that local Google search is the top income-generating and new client acquisition tool for most companies today.
So it goes without saying that when you optimize and verify you Google My Business profile it's a massive competitive edge for your business.
Setting up a GMB page is relatively straightforward. However, your business page will stay unpublished until you verify it as per Google's requirements.
How should you approach the verification procedure to verify your GMB account? In this review, we'll look at what GMB is, how to verify, methods of verification and the benefits of GMB verification for businesses.
What Is Google My Business?
GMB is a free web tool whose aim is to help local startups and businesses get higher visibility on Google Search for applicable local searches via SEO (search engine optimization).
By using GMB, as an owner of a local company, you can control and improve your prominence on Google Search. Optimizing your business page can help make your small business stand out from the competition in your region.
The more space your small business takes up on the web, particularly on Google Search, the more your prospects for landing new customers increases.
Most clients start their journey of buying products on Google Search, particularly when searching for local companies for services. Being at the top of searches for products and services is vital for the growth of all businesses.
Using GMB can help boost your results from other web-based digital marketing channels and improve ROI. Adding Google My Business to your overall advertising strategies, such as your website and other marketing channels, is vital.
For instance, enhancing foot traffic for various branches of a business can be boosted by GMB. Although Google My Business is geared towards local businesses, it also offers several benefits to regional and international companies.
How Long Does It Take to Verify Google My Business?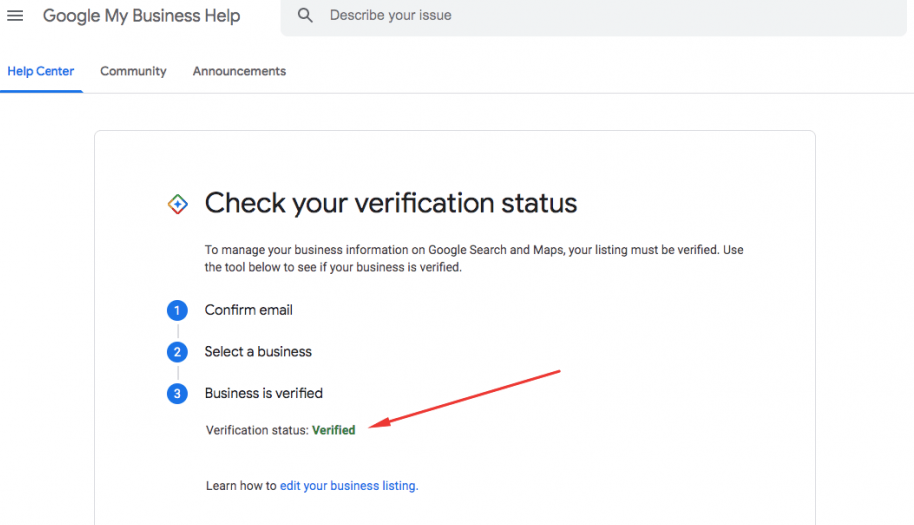 Google has made changes to the Google My Business verification process, and now it takes anywhere between 5 to 10 days before a company profile is verified.
If the verification process is a success, you'll be notified. Otherwise, you'll continue seeing the 'Verify Now' button on the GMB dashboard.
Verification delays can happen due to the number of company pages Google needs to verify and the quality of people's information.
How Do I Change My Google My Business Verification Status?

Most local businesses verify their GMB accounts by requesting postcard verification. But some companies have other verification options such as email, phone or search console.
To change your GMB verification status, you need to sign in at GMB, where your dashboard appears. On the right side of the red banner, on the upper part of the page, you'll see a button labeled 'Verify Now' click it to change your verification status.
What Are the Benefits of Google My Business Verification?
Control Over Profile Photos
Verifying your GMB business profile allows you to upload photos on your business profile. It also gives you control over what users can post on your profile.
This is vital because you may want to delete photos posted by clients because they are irrelevant, misleading or harmful to your company's reputation.
Direct Messaging
Verifying your Google My Business account allows you to accept direct messages via the official Google My Business mobile application.
This feature lets people view your business on their smartphones or tablets and message your business directly via the GMB listing.
This boosts your availability to customers and allows clients who prefer text messages over telephone calls to reach you. This is perfect, especially if your business prides itself on prompt customer support.
Edit Your Business Information
Verifying your Google My Business profile allows you to edit certain parts of the profile info that you wouldn't be able to without verification. Some of the info you can edit includes:
Address
Company description
Contact
Services
Website
Gain Access to Performance Insights

Verifying your GMB page will give you insights into your performance, such as the types of searches that lead people to see your business page.
These included branded and non-branded searches where clients see your Google My Business listing, for instance, Google Maps, Google Search Lists etc.
Get Email Notifications
Another benefit of verifying your Google My Business profile is getting email notifications on new reviews and picture performance.
You'll be notified any time a user uploads a review about your business on your profile, as well as an email on how many views your photos are getting. This can help you understand what kinds of photos customers love so that you focus on them more.
Google Maps Searches

Verification will help place your business on Google Maps. This will boost your physical location visibility and help your business stand out when users search on Google Maps in your locality.
This is vital because it also helps your business appear in local searches. For instance, if you own a restaurant and someone searches 'restaurants near me' on their mobile device in your locality, you'd want your business to appear on searches right?
Manage Your Profile via Mobile
Once you verify your GMB profile, you can manage the profile via the Google My Business official mobile app available on the App Store and the Play Store.
This application allows you to be notified on your phone regarding customer reviews. It also allows you to check performance insights in a mobile-friendly interface and post pictures to your business profile directly from your phone.
Verifying Google Business- Start from The Setup
To avoid the problems when verifying your Google My Business profile, you should think ahead as you go through the verification procedure.
Ensure you type the correct business name, company address and contact during setup. This will make it easy for you to verify your profile using any of the available verification methods.


However, you can also change your business address and phone number from the GMB dashboard prior to verifying in case you make an error during setup. Obviously, this will force you to skip the verification process during setup, which isn't ideal.


More importantly, make sure your business address and contact information are correctly formatted as per Google's setup guidelines.
Depending on the verification method you pick, wrongly formatted addresses and contacts will make it virtually impossible to complete the verification process.
Verifying That You Own an Unclaimed Google My Business Listing

There are two ways to go about claiming a Google My Business profile. One of the approaches comprises claiming an already listed business on Google by clicking 'Claim This Business' on Google Business or 'Own This Business' on the profile piece on Google Search engine.
If your business is already listed on Google either via a former staff or user-generated review information, you will need to claim the listing and follow the setup process as if you were a business listing on Google for the first time.
Eventually, you'll get to a point where Google will ask you to verify your listing using the verification methods discussed below.
The second approach you can use to reach the Google My Business profile comprises setting up a new profile from scratch if it doesn't exist on GMB or Google Search.
This process is relatively you just need to start by visiting by clicking this link. Follow the subsequent steps until you reach the GMB company profile verification page.
Verification Methods On Google My Business
Instant Verification
The first and probably the most accessible and most convenient verification approach is instant verification. This approach is only available to certain businesses and business owners who've verified their companies on Google's search console.
If you sign in to Google My Business using the same email address you used for your business verification on Google search engine, you might find the instant verification method enabled automatically at the end of the setup process.
Postcard

The second and perhaps the most utilized verification approach is a postcard. This is where Google sends you a unique postcard with a 5-digit verification code.


You will use this code to verify your Google My Business profile and publish it. Add the contact name and click 'Post' to request Google to send the postcard to your email address.
Email

Google allows you to verify your company via email if it's purely an online business, without a physical address or service area.
However, it depends on whether Google thinks it's enough to verify your company via mail. If you can see email verification on the last page of the configuration process, follow these steps to verify your business via email:
Select the email verification method on the last page of the configuration process or open the Google My Business dashboard and click 'Verify.'
Wait for an email to arrive in your inbox. Make sure you use the same email address you used to register your company on GMB.
If you find the verification email in your inbox, just open it and click the link. If your mail provider doesn't support live links, check for a verification code in the same email, copy it and paste it onto your GMB dashboard to verify your business.
Verifying Your Business by Phone

For some businesses, GMB may allow you to verify them by phone call. If this option is available to you, follow these steps to verify your business by telephone:
Open the GMB dashboard and click on 'Verify Now.' Ensure you pick the specific business you want to verify if you have several of them on your dashboard.
Finally, click on 'Verify by Phone,' which will prompt a verification code to be sent to your SMS inbox. Use this verification code to confirm your business.
Bulk Verification (Chain Store Owners Only)

This is the last verification approach, and it's only available to GMB account holders with more than ten companies listed on Google My Business.
You'll need to appeal for bulk verification by completing a bulk verification form on the GMB dashboard and sending it to Google for assessment.
You can get this form by clicking on 'Get Verified' followed by 'Chain.' From here, enter your details, such as your company name and email address and submit it.
Finally, you'll need to send Google a spreadsheet containing information about all your listed businesses per Google's guidelines.
Final Thought
To sum it all up, now you know how to verify a Google My Business profile and ensure your local business is listed on Google. This is a great opportunity, especially for startups, because it's free. So go ahead and verify your GMB profile and watch your sales grow.