A comprehensive yelp vs Google reviews comparison is a must for business because you can choose to focus on one that is more impactful to you.
How does Google Reviews compare to yelp as a business review platform? Both platforms are powerful in their own right and receive millions of visitors and reviewers every day. A comprehensive yelp vs Google reviews comparison is important for your business because you can choose to focus on the one that is more relevant and impactful to you.
In this yelp vs Google reviews comparison, we explore the following important topics and how they affect your business in terms of online reputation and visibility:
What are Business reviews and why should you care?
What is yelp?
Does anyone still use Yelp?
Can you Trust Yelp Reviews?
Can you remove negative Yelp reviews?
What is Google Reviews and should you spend time on it?
Can you Trust Google Reviews?
Yelp vs Google reviews- how do they compare?
What Are Online Business Reviews and Why Should You Care?
Online business reviews are statements or opinions your customers write on the internet about their experience with your business. For instance, a satisfied customer could go to review sites like Yelp or social media and type a positive review of your business about their user experience. At the same time, dissatisfied customers, internet trolls, and competitors can write fake reviews on the internet about your business.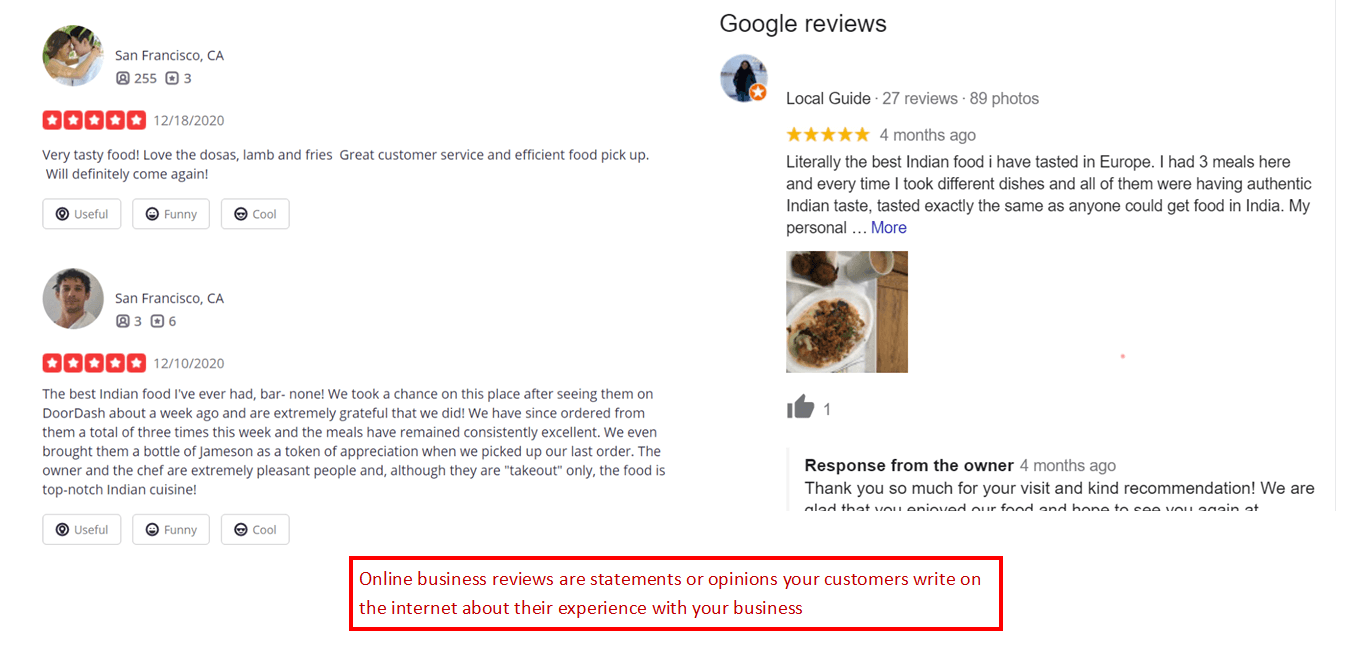 The most popular online business review platforms such as Facebook (and other social media platforms), Google reviews, and Yelp have millions of user-contributed reviews and are trusted by millions of people around the world.
If a potential customer wanted to know if they can trust your business, they would do a Google search and read your reviews on these independent platforms as opposed to what you may have on your business website.
Most small business owners rarely check online review platforms like Yelp and Google reviews because they don't see the need, especially if they already own a website. This is not a good idea as reviews on independent platforms such as Yelp and Google could be sending potential customers away.
At the very least, every small business owner should go through reviews on these platforms to know what their customers are saying about them and their user experience.
What Is Yelp?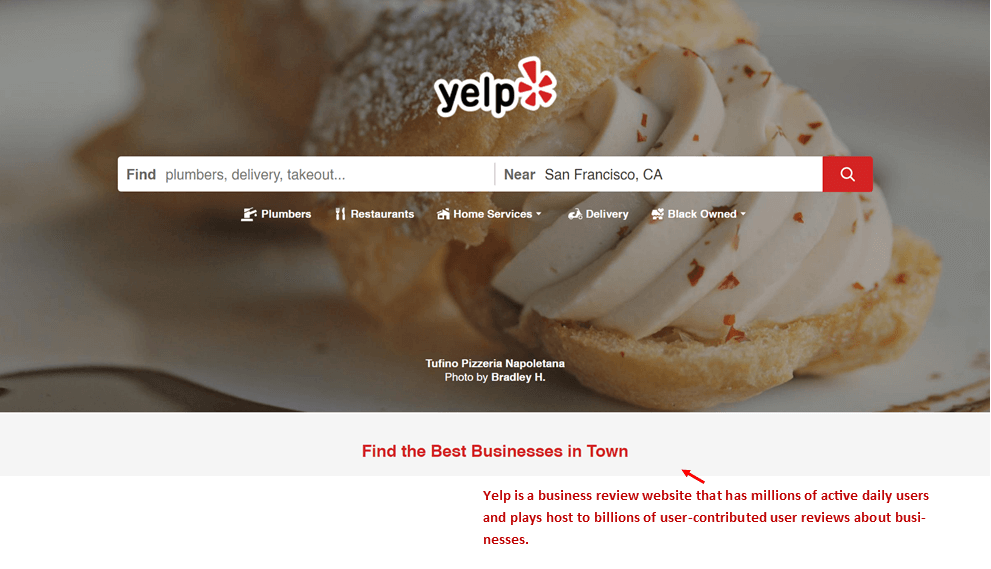 Yelp is a business review website that has millions of active daily users and plays host to billions of user-contributed user reviews about businesses. Yelp is an independent review platform meaning businesses have no control over what is posted about their businesses. However, business owners can manage and protest reviews that they feel are malicious.
As a business review platform, Yelp has been around the longest and had its fair share of positives and challenges over that period. It was, perhaps the only platform that a marketer needed to keep track of to manage their business's online reputation and build trust. Yelp maintained some kind of monopoly at some point and capitalized on that to build its business advertising platform.
However, Yelp's popularity and position as the biggest and only business review platform has waned over the years. Today, new entrants to the scene such as Facebook Reviews and Google command as much traffic and trust as Yelp and have more features.  Businesses have more options as far as managing their business reputation and visibility is concerned- with or without Yelp.
Does Anyone Still Use Yelp?
While it may not be the only business review platform out there today, Yelp still commands a sizable following and influence with over 140 million unique visitors each month according to its 2019 shareholder report. Millions of users still visit Yelp for the sole reason of searching businesses, posting, and reading reviews. As of 2019, the platform reported having over 192 million user-contributed reviews on its platform according to the same report mentioned above.



At the same time, Yelp also has a powerful advertising platform that businesses can use to attract new customers. These ads are more effective because they get displayed alongside user reviews even on searches that are aimed at the competition.
Yelp has, however, been at the receiving end of negative press and complaints over the years that have diluted its influence in the online business review community. For instance, the company has been accused in the past of using its business ranking algorithm to punish businesses that did not buy its advertising services. Those that paid to advertise on the platform were given preferential treatment such as having negative reviews hidden or having their ads displayed over non-paying businesses' pages.
Can You Trust Yelp Reviews?
As with any review platform, there is no guarantee that all the reviews posted about your business on Yelp are genuine and trustworthy. A good number of them are good but there is a big chance that you may have to deal with fake or malicious reviews on Yelp at some point.
For instance, Yelp has been accused in the past of having too many unverified reviews and letting its platform be exploited by businesses through a practice known as astroturfing to build fake credibility at the expense of users and competitors.
 Can You Remove Negative Yelp Reviews?

Businesses that find fake or malicious reviews on Yelp can remove them through launching a complaint with the platform. They can do this by flagging a negative review, giving a good reason why they feel it should be removed, and submitting it to the platform's moderators. The complaint will be reviewed and the negative reviews removed if the moderators agree with the complainant.
Google Reviews

Google Reviews is perhaps one of the fastest growing and most available business review platforms today. Potential customers can see your star rating on various Google services such as Google Search, Google Maps, Google My Business pages, etc.
Google reviews are important to track as a business because they affect your visibility, local Seo, and internet-wide reputation. For instance, potential customers searching for a local business on Google will see your business listing right on the search results page and your star rating.
Google Reviews has millions of active users and commands a sizable chunk of the online commerce space. Businesses who engage in online marketing and care about their reputation should care about their Google reviews and business listings. At the same time, Google as a platform has one of the most powerful ad platforms out there.
Can You Trust Google Reviews?
Google Reviews commands more trust than any other platform because of its powerful review filtering algorithm and immense resources.  Generally, you will encounter significantly less fake or doctored reviews on Google reviews than any other platforms. However, this does not mean that the platform is completely immune to internet trolls and fake reviews.
As a business, you should also take a keen interest in what is posted on your Google My Business pages and snippets, respond to reviews, flag/report malicious reviews and encourage your customers to leave a review on the platform.
Yelp Vs Google Reviews- How Do They Compare?
Compared to each other, Yelp and Google are quite evenly matched in terms of popularity and the number of business listings they host. However, that is where the similarities end as both of them have a different approach to the way they display and manage reviews and other aspects of the platform.
Google reviews are displayed on multiple-channels such as search, Google maps, and independent GMB listings while Yelp reviews are exclusively displayed on the platform.
Google displays reviews and business listings in multiple designs and supports media on business listings. Yelp on the other hand has a simple design that mainly features star ratings and text reviews.
In terms of control, the Yelp algorithm determines what reviews can be seen and to who depending on Yelp's commercial interests. Google is more transparent about its business review platform and displays all the reviews posted without discrimination. This is perhaps, one of the biggest reasons why Google has eaten into Yelp's customer base over the years.
Google uses local SEO and internal ranking factors to display businesses on its review platform. Google may or may not display competitor GMB pages alongside yours depending on what the users searched for. It's not clear whether user reviews affect search rankings on Google search although businesses with more reviews tend to rank higher.
Yelp is less transparent about how they rank businesses on their platform. Reviews posted on Yelp do not affect business search rankings on Google search. However, backlinks on Yelp Reviews do affect your business website's SEO.
The Verdict- Yelp or Google Reviews?
The answer to whether your business should focus its efforts on Yelp or Google Reviews comes down to your needs, online presence and where your reviews are. Both platforms are extremely important to your business especially if you have customers on both.
Yelp tends to attract older customers who have known and used it as the only review platform while Google reviews attract all the others.  It is therefore important for businesses to use both free review platforms for success and for online reputation management.