Leverage the Google review embed feature to increase your numbers and ensure buyers have sufficient information to help them make decisions.
Why do you need to Google review embed? Today, many people rely on online reviews before making any purchasing decisions. As a business owner in the digital world, you cannot ignore customer reviews.
Google is one of the most reliable sources where internet users can read reviews from previous customers. Google advocates for authentic and accurate purchaser-written reviews.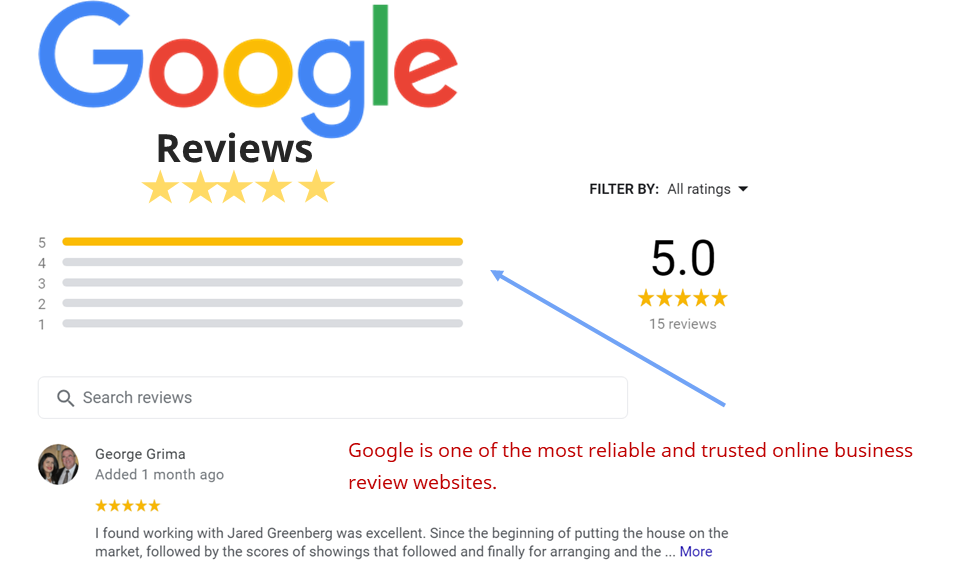 Google Bars Reviews from Anonymous Users
Apart from prohibiting anonymous reviews, Google has an intense anti-spam filter that maintains a resourceful and clean list of customer reviews. These robust features are the reason why many websites and business owners want to understand how to embed Google reviews on their websites.
In this article, we shall discuss how to add Google reviews on a website with minimal struggle. You will also find out why customer reviews are crucial for your enterprise.
How to Add Google Reviews onto Your Site
You can use any of the methods below depending on your budget, knowledge, and size of your enterprise.

·       Widget Installation
Installing a widget is one of the easiest methods of getting Google customer reviews on your website. You can install a widget on your content management system with ease. However, some widgets come with sophisticated installation guidelines, which can be confusing.
While widgets are either free or cost-friendly, they can be volatile and may not always function appropriately. Sometimes they will not even work, or they could either be incompatible with specific systems or have bugs.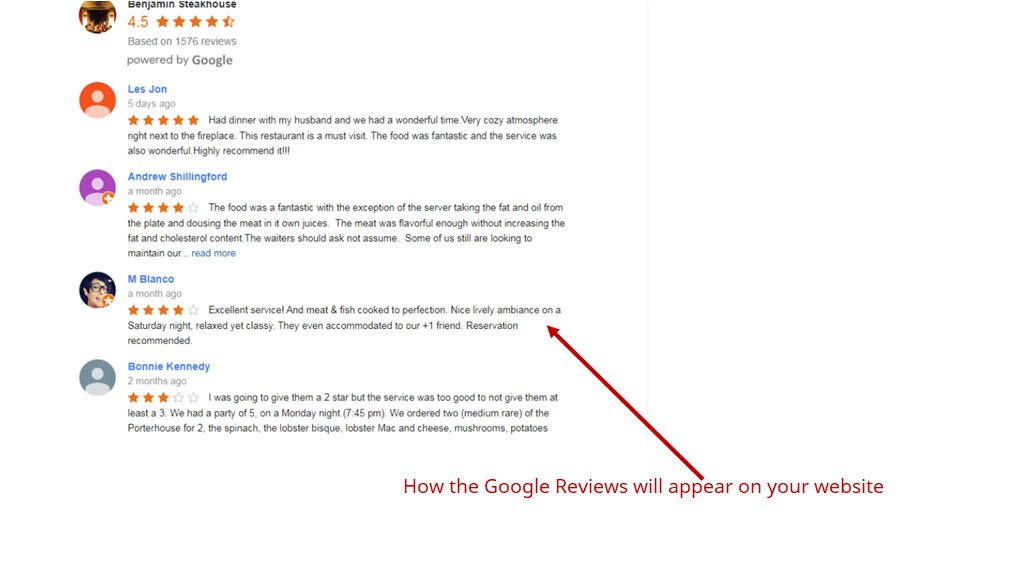 You can utilize different styling alternatives and exhibit your reviews on a web-based widget. Leverage the carousel, grid, and light or dark features to customize your widget to complement the design of your website.
·       Utilize a Review Platform
Leveraging a review platform such as WaveReview is another simple approach to driving Google stars to your website. WaveReview has been diligently serving its clients for close to eight years now. The platform strives to fix reputation marketing using a simple but robust method to prevent people who had a bad experience from leaving reviews.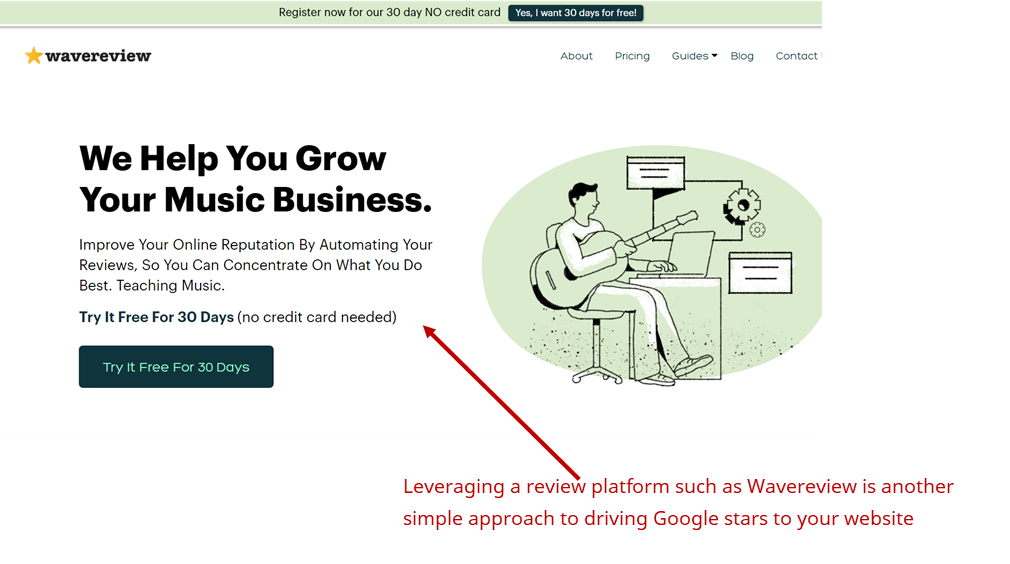 Businesses can devise strategies to ensure that nearly everybody enjoys a great experience. The WaveReview concept seeks to ensure that users who have had positive experiences leave their reviews on the website. This platform is also specially designed to post reviews on various platforms such as Yelp and Google places.
The team at WaveReview is committed to extracting customer reviews using different methods. For example, they conduct surveys through email to determine a customer's experience on your website. This strategy has been a success, with the platform enjoying up to 35% completion rates.
WaveReview prides itself on having high conversion rates and convincing people to click email links and leave their reviews. WaveReview's conversion rates when it comes to clicking on links ranges between 10% and 35%. Failure to manage your online reviews could drop your conversion rate up to 1%. You do not need Jquery or JavaScript knowledge to use the WaveReview website.
·       Use the Taggbox Google Review Widget
The Taggbox widget is an exclusive pop-up embedding solution for customer reviews on a website. With this tool, you can integrate your Google+ business page, collect all Google business reviews available, and dispose of them on your site.
Google reviews widget allows users to decorate their review feed with attractive customizations like fonts, themes, layouts, design elements, styles, and colors. You can also regulate content to facilitate the elimination of insignificant reviews from your feed while maintaining the appropriate ones on your feed.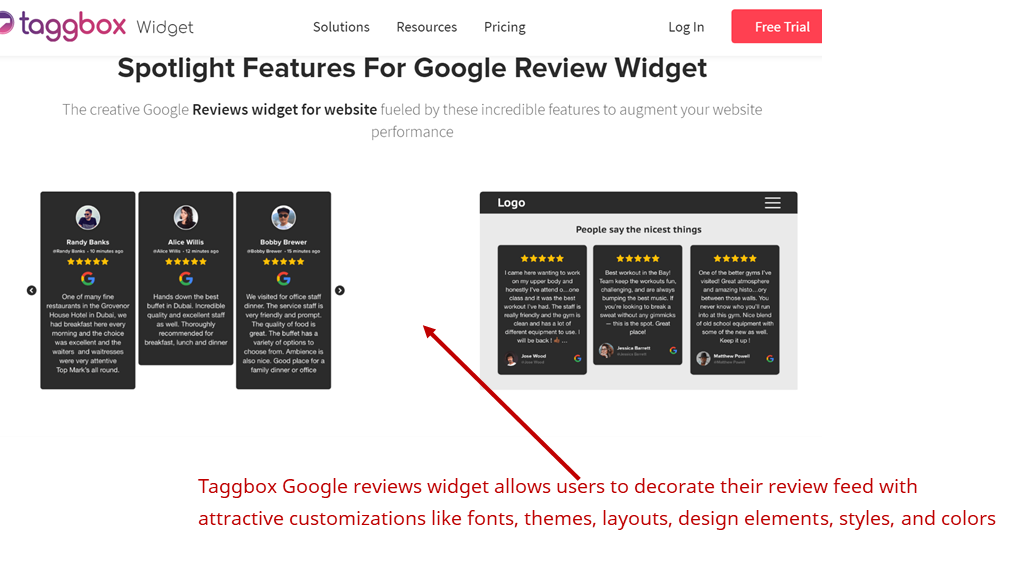 This widget also allows you to activate real-time updates on your feed. The Taggbox Google review widget enables you to integrate your custom content and evaluate its performance via built-in analytics. You can easily incorporate a wide range of website platforms such as WordPress, HTML, Wix, Shopify, Weebly, and Squarespace.
·       WordPress Website Google Review Embed Plugin
WordPress is a popular website construction website that comes with a wide range of widgets and plugins. These components incorporate different external elements into the website with ease. WordPress also features a Google new reviews template plugin, which you can use to connect your Google+ reviews to your site. The plugin is not only customizable, but it is also essential for your site.
With this WordPress plugin you can feature the Google review in a sidebar design on your landing pages or web page header. It also allows you to activate the automatic update feature, and you will be able to access new reviews by activating the filter segment. The WordPress website Google review embed plugin, allow you to exhibit up to five reviews for a specific location. You can even include the "Read More" option to shorten long-term consumer reviews. You can integrate a range of WordPress page developers with this plugin.
·      Utilize the Google API
Google no longer offers a simple way of embedding reviews on your website, but they allow businesses to assess the API. If you are working with a team of developers, you can leverage the Google API to create a customized system that communicates with Google to collect review data automatically. Apart from being time-consuming, this approach can be tricky, especially for small businesses with limited technical knowledge.
·       Reviews on Websites
The Reviews on websites tool allows you to showcase Google reviews on your site. You can also use it as a unique solution for showing website visitors reviews on your website. This tool gives you the ability to collect reviews from your Google+ business page with ease. You can even integrate it with the WordPress platform.
You can personalize the review feed on your site using the customization feature depending on your site requirements or themes. You can also use the Reviews on websites tool with different layouts and themes.
With this tool, you can differentiate the reviews you want to display from the unnecessary ones that add no value to your site. The Reviews on Websites tool is easy to use and responsive to embedding reviews.
Why Should You Consider Google Review Embed Services?
Business owners can leverage the Google review embed feature to list their businesses online. Shoppers, on the other hand, get an opportunity to review products and services. Google takes time to verify the listing thoroughly to ensure it is authentic.
Once you get approval, you can go ahead and list your business placeid location, upload some images, and indicate your working hours. You will also be able to respond to all the reviews that potential customers post on Google Reviews.
Google My Business review concept features an out of 5-star rating. Again, the reviewer gets a chance to leave a comment. Google does not condone fake reviews. Not only do they bar all anonymous comments, but they also mark and list the most relevant customer reviews first. Read on to understand why you would want to integrate Google review embed on your site.
·      You Achieve Social Recognition
In today's digital and social media age, you need a properly-branded image to gain trust and attract potential clients. One of the best methods of acquiring trust and social recognition is through collecting and responding to public reviews. In this case, you need the Google review  embed feature on your site.
As an entrepreneur, you should understand that social proof influences consumers. Once your potential customers read excellent Google reviews from your previous customers, they will view your enterprise from a positive perspective.
·       Google Review Embed helps you Generate Authentic Content that Facilitates Brand Engagement
As a result of the competitive market, you need a robust strategy to ensure your brand stands out among competitors and attracts more traffic to your site. While creating video marketing content is an effective strategy, it can be time-consuming. However, you can ask your consumers to leave video reviews on your website. By doing so, you will receive user-generated content with minimal struggle. This approach is unique and cost-effective, and you can use it against your competitors.
Studies suggest that video content is a powerful form of marketing that many customers look out for before making any purchasing decisions. If you are looking for an authentic, cheap, and conversion-based marketing approach, then video content is the way to go.
·       Helps you sell more than Your Competitors
Today, many entrepreneurs sell similar products. Are you selling at a lower price but still unable to convert as well as your competitors? If this is the case, then you may want to change tack. Your competitors could be leveraging feedback as social verification. They could be dominating the market because positive reviews influence consumers and help them have confidence in the providers. If you want a share of that market, then collecting reviews would be an ideal approach.
·       It Boosts SEO
Having Google review embed knowledge helps you enhance search engine optimization. It is common knowledge that testimonials and reviews instill in search engine algorithms some positive perception about your website.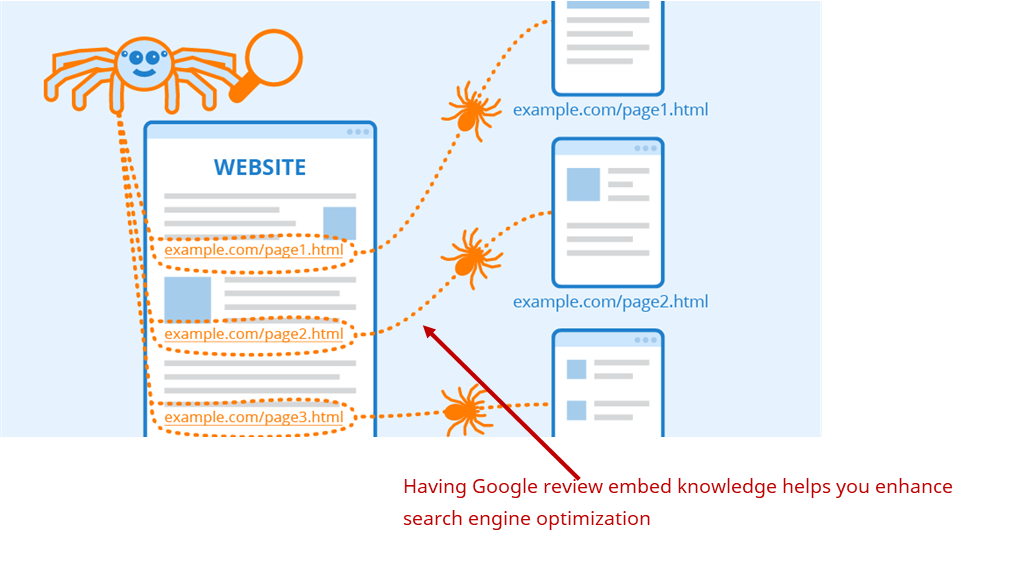 Incorporating Google reviews on your website can improve its ranking on search engine results pages. Getting numerous good consumer reviews is an indication that your website is reliable and authoritative. If your website does not have even a snippet of user reviews, then internet users will hardly trust you.
Every Enterprise needs Google Reviews
The proper use of online reviews can help your business attract more new customers, or drive them to your competitors. Leverage the Google review embed feature to increase your numbers and ensure buyers have sufficient information to help them make informed decisions. Register on the WaveReview platform today and enjoy a thirty-day free trial.