Take the Best Product Photos Ever with these Tips
Imagine you are browsing an Amazon listing and you see a product that has a title that grabs your attention, a description that intrigues you, and a good price point to boot. But, there's just one thing..
The product photo is really low quality and actually makes you not want to buy A bad product photo can turn potential customers away from whatever you're selling quickly. And that means they're taking their full wallets with them to your competitors.
Product photos are like the first impressions you give on a date.
They're what your (hopefully) future customer looks at first when they're making their buying decisions. And the better your product photo is, the higher you will rank on Amazon searches.
That's why we've created this handy article to help you take product photos that will make your customers pull out their wallets (well, we can only hope!).

First, you've got to know the requirements. No one wants to break
Amazon's product photography rules since that can mean getting your key product photos pulled. Here are the laws of the land you need to follow when making your shots:
The background has to be white.
The product needs to fill 85% of the photo.
Another important point to make the most out of your product photos is to make sure your image is 1000 pixels on the longer side and 500 pixels on the shorter side to get the zoom feature to work, which most customers use!
Amazon offers you 9 slots for different photos, but there's no requirement to use all of those slots. However, the more photos you have of your product, the more likely it is your potential customer will spend more time looking at your product and will hopefully increase the chances you'll get to make a sell. Now you know all of the requirements by Amazon for your photos. Step one complete. Want to hire a local photographer to take your product photos? Click here to download our photographer vetting checklist.

Planning Your DIY Photoshoot
To ensure a successful DIY photoshoot for your Amazon products, follow these key steps:
Define goals: Determine what you want to achieve with your product photos.
Identify target audience: Understand your customers' preferences and interests.
Define brand style: Establish a consistent visual identity for your photos.
Plan the shoot: Select products, choose backdrops, props, and schedule the shoot.
By planning strategically, you'll create high-quality product images that resonate with your audience and drive sales.
Now to take your photos. Wait, do you have everything?
Before you take your product photos, you're going to need to gather all of the necessary supplies. To make your life a little easier, here's everything you need to make the perfect photos:
A camera. What else are you going to take your photos with? However, if you're on a budget, there's no need to go crazy with an expensive camera. You could even use your iPhone's camera, which is just as good as many of today's point-and-shoots.
A tripod. Getting your camera or smartphone set up on a tripod is just going to make your photos that much better and help achieve the depth of field you want. There are plenty of options on Amazon for great tripods and you can even check out their product photos for ideas too!
A white background. Since one of Amazon's requirements is a white background, you're obviously going to need to find one. There are many ways to achieve this. If your home or office has a white wall with good lighting, you can use that. You can also head over to an art store and

buy a large, flexible white mat board

for shooting. You can even set up a white bedsheet on the wall if you're really looking to be a DIY photo master.
A table. Get a simple folding table that can be used to hold your product.
The right surroundings. See if you can find a space where there are big windows that let in tons of natural light. This is going to make your product photos that much higher quality!

The key to
taking

photos that sell your product

The key to taking great product photos isn't just the angles of the shots, it's what you're showing in the photos. You want to take photos that are going to show off how it works. That means you'll need to peel a few apples during your photo shoot to get the variety of shots you need to show how it works. Tell the story of how someone would use the product by using photographs. This will help people visualize how they might want to use your product, and how it would fit into their lives.

Here's how an apple peeler could do this: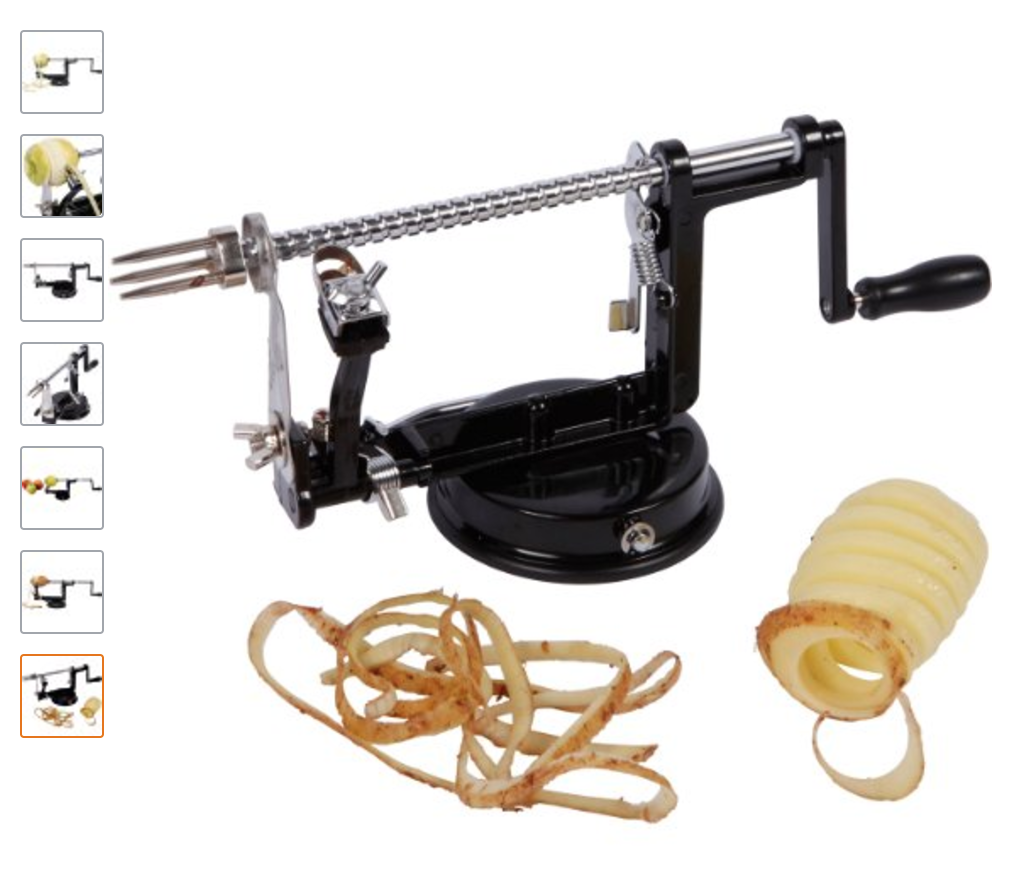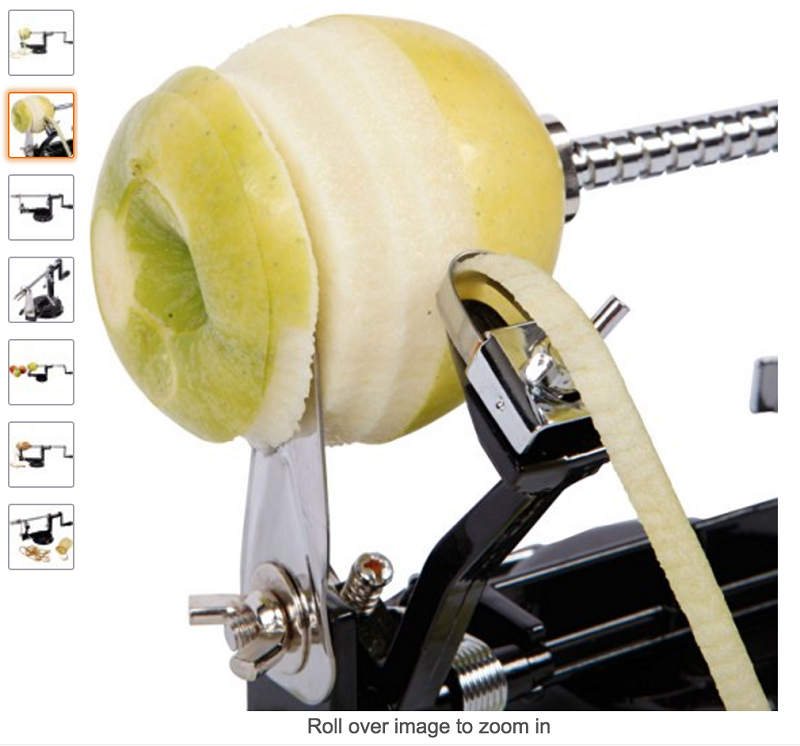 In these photos you get a clear idea of how the apple peeler works, as well as what it looks like. If I were in the market for an apple peeler this is exactly what I'd want to see.

Setting Up Your Studio
The first step to taking the perfect product photos is to properly set up your photography studio, however, DIY it may be. Make sure your table is set as close as possible to a brightly lit window at a 90-degree angle from it.
Make sure to turn off all the rest of the lights in the room, unless you are using artificial lights. It's best to take your shots in the daytime to remove the need to buy expensive lights.
Now that you've got your table up, the next step is placing your "sweep", which is basically your white background for the shoot. Using the mat board, bed sheet, or whatever you may be using, maneuver it so that it sweeps from flat on the table to vertical on the wall. Then you'll need to tape it with a clear or white tape so it stays safely in place.
Now place your product in place on the table in the center of your sweep. Make sure there's plenty of white space around it so you won't have to crop too much later.
Then, go ahead and set up your camera on your tripod in front of the table! Make sure to position the camera to get your product square in the middle of your viewfinder.

Now let's take some photos!
Below, you'll find the exact steps to take to take the best product photos, now that you have everything required ready to go. Rather get a local photographer to take your photos? Click here to download our photographer vetting checklist.
Creating your Art
This is where your personal preference comes in. Take as many photos as you want and experiment with different angles before you make your final cuts. After you've taken a lot of photos, transfer them on to your computer and see how they look on the big screen. Most of the time, you will be able to weed out some of the best ones this way.
Video Tutorial on DIY Amazon Photos
If you're still a little nervous about taking your own amazon photos then check this out. Here's a great video showing you how to put together your own photo studio on a budget. Check out the video below:


Edit and Retouch Your Finalists
Now, this step is completely based on personal preference and the preferences of your customers. Edit your photos in the way that makes most sense for you and your business. However, you will need to do some kind of retouching to make the photo look a little better.
Optimizing and Uploading Your Product Photos
To maximize the impact of your DIY product photos on Amazon, follow these steps:
Optimize for Amazon: Ensure your photos meet Amazon's requirements for resolution, file format, and file size.
Organize and name files: Use descriptive names and create a logical folder structure for easy management.
A/B testing: Experiment with different images to gauge their impact on click-through rates and conversions.
Upload and update: Follow Amazon's instructions to upload images and regularly update them for freshness and relevance.
By optimizing and strategically managing your product photos, you'll enhance their effectiveness in attracting customers and boosting sales on Amazon.
Bonus Tip – Ship your samples directly to a specialized photography studio
The easy route of outsourcing your photography is to send your product samples to a company that specializes in product photography like www.productphotography.com
They are experts when it comes to product photography, and will take the stress off of trying to take the photos yourself.

And there you have it—Your perfect DIY product photos!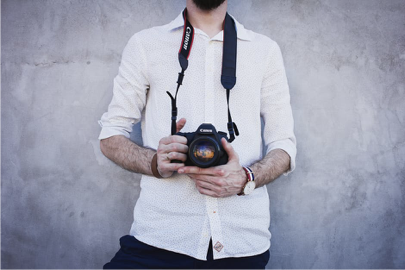 If you've followed these DIY product photo steps, you should be looking at some pretty great photos that will definitely convert those viewers into customers.
But how about after you make the sale, how are you going to get that customer to write you a review and buy from you again?
That's where Onestop Booking comes in.
Email is the best way to make sure you get 5-star reviews on your Amazon account. Onestop Booking gives you the automated email system and templates to build your Amazon email sequence.
Organic high star reviews will come flooding in with the help of Onestop Booking.
Thanks to Onestop Booking and these tips, your product photos and subsequent business are going to more successful than ever.

Content Upgrade Want to Hire a Local Photographer to Take your Amazon Photos?

Here's what to look for…
So how do you vet a product photographer and know if they will get you the images you need to sell better?

Look at their portfolio
First and foremost, look at their online portfolio. Have they ever done product shoots before? Look for products similar to those you are going to be selling. Do you like the photos? If you don't see a product similar to yours, contact the photographer and ask if they have done product photo shoots before.

How long have they been in business?
You will want to know how long they have been in business. A good indication of quality services and stability is based on how long they have been in business. The plus side to this is that you will be able to build a relationship over time with these photographers and add them to your roster of contracted team members to help you build a world-beating private label empire.

Where do they shoot?
Do they have a physical location or studio, or do they shoot from their garage or apartment? Though not impossible to create beautiful photos from a residential location, you will want a level of professionalism that can scale and have the longevity.

Make sure they have an Amazon compliant photo studio
White background, great lighting, clear tabletop—these are all things you need for a successful Amazon photoshoot. Try to see a photo of their photography setup before you commit to the photo shoot. If you've followed these steps, you should be able to find a great local photographer to take your photos.
But how about after you make the sale on Amazon, how are you going to get that customer to write you a review and buy from you again?

That's where Onestop Booking comes in. Email is the best way to make sure you get 5-star reviews on your Amazon account. Onestop Booking gives you the automated email system and templates to build your Amazon email sequence. Organic high star reviews will come flooding in with the help of Onestop Booking.