Being a registered childminder can be the right career for you if you are passionate about children. How, then, do you start? Read on to learn how to become a childminder in the UK.
What is Childminder?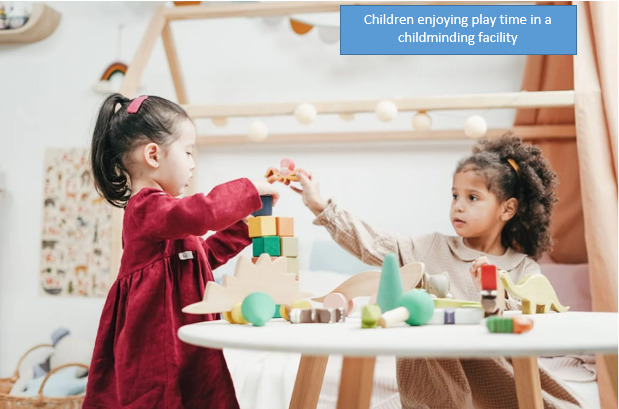 Childminders are self-employed early education and childcare providers who often work from their own homes. They focus on supporting the early development and learning of children of all ages and collaborate with parents to offer customized home-based childcare.
Childminders in the UK must be registered with Ofsted or an Ofsted-certified childminder agency. The professional association for childcare and early years can support aspiring childminders to access the suitable training courses and support they need.
What Qualification do you Need for a Childminder?
While there are no formal qualifications for childminders, aspiring candidates must be 18 years of age and registered on the early years register on Ofsted. The childcare register is crucial for childminders caring for children between the ages of five and eight.
How much do Childminders Earn?
Registered childminders working from their domestic premises are classified under the self-employed bracket and must register their childminding businesses with HMRC. With an HMRC registration, childminders can define and charge their own rates.
There are various costs to consider in the childminding business, like an annual fee to maintain registration and insurance charges. You must also incorporate expenses like food and fuel. The average childminder in the UK and Wales charges £5.50 per child per hour, but the rates can vary depending on the number of children they will be caring for.
As a childminder, understanding some of the costs involved helps you plan your budget accordingly. These costs include:
Registration Fee.The number of children you will be caring for will determine the registration fee amount you'll pay. The early years register for children between five years and below is £35, while the childcare register for children above five years is £103.
DBS Disclosure.An enhanced DBS check costs £40. You need a separate DBS check for everybody in your household aged 16 years and above. Childminders should renew their DBS checks every one to three years.
Medical Check.You must undergo a health check from your doctor to rule out medical complications that may hinder you from caring for children. Your doctor must fill out the health declaration form and send it to Ofsted. The cost of a medical check varies based on the general practitioner you choose.
Paediatric First Aid Training.Aspiring childminders must complete 12 hours of paediatric first aid training. The cost of training can vary depending on where you live and its availability. Expect to pay between £50 to £200. You must enroll for first aid training afresh every three years.
Safeguarding Training.Many local authorities expect new childminders to have safeguarding training. The training is available online for a minimum cost of £20. Childminders should update their safeguarding training every three years.
Introductory EYFS Training.You must complete an introductory course unless you hold an early years qualification. The course teaches critical aspects, helping you understand and implement EYFS, develop children's learning, and record development. The course's cost varies, but you can pay between £50 to £200.
Additional Training Requirements.Other training certificates you may need include an introduction to childcare practice, fire safety, and food hygiene. Suppose you care for children with special needs like Dyspraxia or Autism Spectrum Disorder. You should enroll in more courses to be well prepared to meet their needs. The cost of these certificates varies but can start from a minimum of £20.
Equipment, repairs, and resources.You need various resources before starting your childminding business. Often, these vary based on the number and age of the children you will be caring for. While some equipment and resources are mandatory, others are optional. However, you may need to purchase them to appeal to your clients and boost your business' success.
Some resources you may need include baby feeding chairs, car seats, first aid kits, changing mates, child-friendly drinking and eating accessories, toys, safety gates, books, and games. Consider the cost of replacing or repairing any of these resources in your yearly budget.
The size of your childminding business can also affect your earnings, as seen below.
Suppose you run a small childminding business caring for three children under five years (including your child), working five days weekly. You're likely to earn £25,000 or more.
Suppose your childminding business is medium-sized, you care for three children below five years, and you have no children. If you care for them the entire day, five days a week, you can earn more than £37,000 annually.
Assuming you have a big home and compound to accommodate more children. Your childminding business will be classified as a large facility. In this case, you can care for up to six children below five years, five days a week. Suppose you stay with them the entire day. You can earn more than £60,000.
How Long Does it Take to Become a Registered Childminder?
It depends on the registration process you choose. For example, the self-registration process through Ofsted takes 12 weeks. Registering through a childminding agency can take up to four weeks, especially for applicants with previous experience working in nurseries or teaching. Still, you don't need prior experience to become a childminder.
All you need is a passion for children and a commitment to participate in their growth and development. For candidates with no background in education or childcare, registering through a childminding agency will take three months.
What are the Benefits of Becoming a Childminder?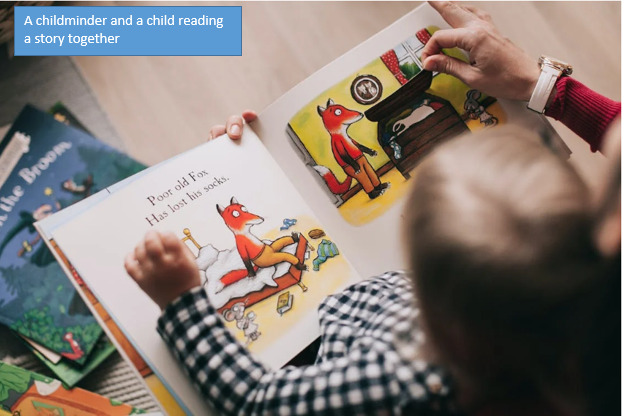 Apart from career satisfaction, working as a childminder has various benefits, as seen below.
· Financial Stability and Low Startup Costs
Unlike other home businesses, you don't need colossal amounts of money to become a childminder. You only need to pay for training and registration and invest in learning materials and toys for the kids. The demand for childcare services in the UK is rising, with more career parents looking for help to care for their children while away.
With many childcare centers booked in advance and parents struggling to find support, being a childminder can be a lucrative career. A professional childminder can earn a steady income from their childminding business in the UK.
· An Opportunity to Acquire Childcare Experience and Transferable Skills
Being a childminder allows you to interact with children from different backgrounds and cultures. This helps you experience new parenting challenges, presenting an opportunity to gain hands-on childcare experience, skills, and insight.
As you navigate becoming a registered childminder, you acquire transferable skills that you can use in your future career endeavors. Part of the registration process requires you to enroll in basic childcare courses in the UK. You can get further information on the registration process requirements from a reliable childminding agency.
· Sufficient Time to Watch over Your Own Children while Earning a Living
Many mothers desire to earn a living while caring for their own children. Suppose you don't fancy spending the entire day at work while someone else takes care of your children. Childminding can be ideal as a full-time or temporary job.
As a childminder, you can work from the comfort of your home. This eliminates commute expenses, and you can take the kids for a walk at the park. According to many childminders in the UK, the freedom of working from home is one of the perks of the job. Further, they can help children select their favorite activities to engage in, including baking, arts and crafts, or miniature theatre.
· Flexible Working Hours
Childminders can define their working hours and days accordingly. For example, some childminders designate a specific day of the week to be their off day. Still, their working schedule should match their availability to their client's needs. For example, choose your off days when none of your clients require all-day care. The weekend can be ideal. However, you can also choose a weekday, especially during school terms when many school-going children spend the day in their learning institutions.
· Numerous Job Opportunities
Individuals with prior experience are more competitive than their counterparts who don't. Before venturing into the childminding business, consider enrolling in a basic childminding course in a reputable institution. Being a childminder can help you land childcare roles, such as being a daycare center manager or running your own business. Venturing into the childminding industry enables you to unlock various job opportunities.
· Being Part of Children's Growth
Childminders can expose children to the world, helping them grow into confident and happy young people. Many childminders develop strong emotional bonds with the children they care for. They also experience a sense of pride and a rewarding feeling as the children grow to become notable people in society.
· Possibility of Starting a Childminding Business
As childminders gain experience, they can launch their own daycare centers. If you are considering owning a childminding business, consider learning the theory and professional practices of the childminding industry. Having sufficient childminding experience helps you provide high-quality childcare services to your clients.
What are the Requirements for a Childminder?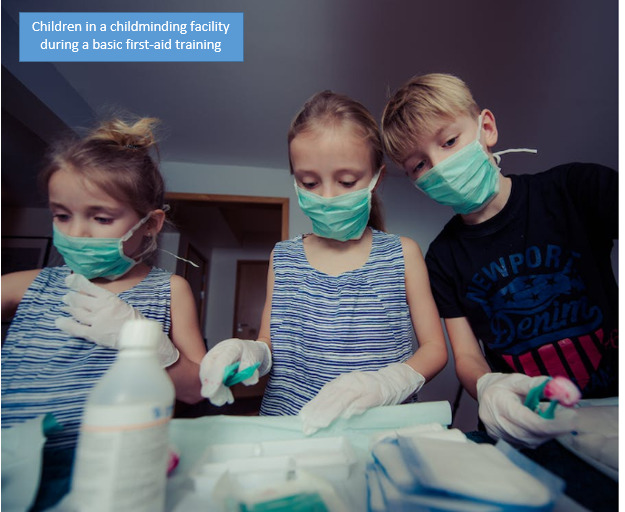 The basic requirements for a childminder are:
Candidates must be over 18 years
You and other people living in your home who are over 16 years must be DBS checked to establish their criminal record.
You must have a home environment from where you will offer your services. While it doesn't have to be big, you must seek permission from the other people living there or your landlord if you're renting the space.
Potential childminders must be well, fit, and tolerant enough to work with children. They should show a health declaration from their general practitioner as proof.
Core skills that the ideal childminder should have include:
Lots of patience
Good administrative and organizational skills
A passion for child-rearing principles and early years education
Excellent communication skills with people of different backgrounds, cultures, and ages
Flexibility and adaptability in terms of the home space and environment
How do I become a Childminder in the UK?
To become an Ofsted registered childminder, there are various things you must do. For example, you must undergo mandatory food hygiene, first aid, and safeguarding training. Further, you must fulfill the requirements of the EYFS (Early Years Foundation Stage.)
You must also have an updated Disclosure and Barring Service check for you and anybody aged 16 years in your home. After sorting these things out, you can begin the Ofsted registration process. Here are comprehensive details to help you understand what the courses we've discussed above cover.
· Paediatric First Aid Course
Every childminder must have a valid pediatric first aid certificate. Suppose you're considering hiring an assistant who can care for the kids as you run a few errands. They must also undergo paediatric first aid training. Check with the local council before enrolling in first aid training to ensure it's approved.
The training provider can also help you choose the ideal course for you. Many local authorities can offer their own program. However, popular alternatives in the UK include the British Red Cross and St John Ambulance. Training can be provided face-to-face, online, or through both options. A pediatric first aid course covers:
The proper use of a defibrillator
Emergencies like bleeding and choking
Managing illnesses like anaphylactic shock, asthma, meningitis, and vomiting
CPR administration for older children and babies
Burns and scald management
How to tie bandages
Managing hypothermia and exhaustion
First aid contents
Head injuries
Allergies
Childminders must retake the entire first aid training every three years. Remember, allowing your current first aid certificate to lapse invalidates your registration certificate and can result in the closure of your establishment.
· Safeguarding Courses
Safeguarding is critical in the registration process. If you will get paid to care for children, you must undergo this training. These courses are designed to help you understand the latest policies and guidance. Safeguarding children courses cover:
The roles of the safeguarding leader
How to determine the best course of action in case of an emergency
Recognizing the signs of abuse and knowing the different types of abuse
Definition of safeguarding and why the training is crucial
Record keeping
Various topics like radicalism and female genital mutilation
· Food Hygiene Courses
A food hygiene course covers the following:
The importance of proper personal hygiene
The spread of bacteria and risk factors
How to develop and maintain a cleaning routine
Food cross-contamination and its ramifications
How to store food in the freezer and fridge correctly
Food safety and how to reduce risks
To become a childminder in the UK, you will also need to:
· Have Public Liability Insurance
Every childminder should obtain public liability insurance. There are various providers in the UK available at Pacey or the gov.uk website.
· Ofsted Home Inspection
The Ofsted inspector will visit your home to establish your identity, gauge your authenticity, and check the validity of your qualifications. The officers will also check your home's suitability for children's safety and evaluate your English language skills.
To help you prepare for this process and increase your chances of getting approved, Ofsted has developed a comprehensive guide you should read and re-read to understand the information. Childminders planning to care for children above five years don't need an Ofsted visit. Before the visit, Ofsted officers will hold a briefing session to help you understand what to expect.
· Ofsted Registration Certificate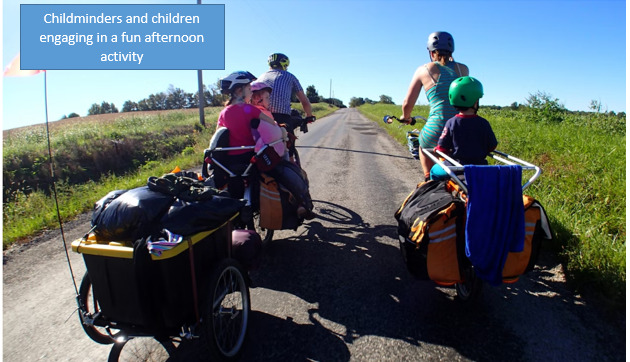 After passing the Ofsted visit and getting approval, you will get your Ofsted registration certificate. You must obtain this certificate before caring for children under five years. The Ofsted registration allows you to receive your URN (unique reference number), published online with your name, address, and inspection reports. However, you can ask Ofsted not to publish your name and address.
Conclusion
Becoming a registered childminder can be a great way of boosting your income while working flexible hours from the comfort of your home. Worth mentioning is that the registration process can be lengthy and comprehensive, but worth it. Are you passionate about young kids and enjoy watching them grow?
Are you looking for a rewarding and flexible side job? Becoming a childminder can be a good option. This article should help you decide whether or not a childminding business is ideal for you. Do you need more convincing? Peruse our website for more childminding info to help you understand it.