Why This New Amazon Policy Could Mean Big $$$ For You
Amazon did it again
In case you didn't hear, Amazon just rolled out a huge update to their terms of service that is likely to get a lot of innocent (and not so innocent) Amazon sellers banned.
Anything that is seen as an incentivized review is not allowed anymore under Amazon's new terms of service. If you use one of those services where you exchange product discounts for reviews, then you are an outlaw in Amazon's eyes.
The exact change in terms reads as so
"Offering compensation or requesting compensation (including free or discounted products) in exchange for creating, modifying, or posting content."
Review-for-discount sites are not technically allowed in Amazon's eyes. If you run promotions on Amazon through sites like that you are going to run the risk of getting shut down.
Some of these review for discount sites are still allowing people to use their services. The people who do, however, are getting this warning from Amazon: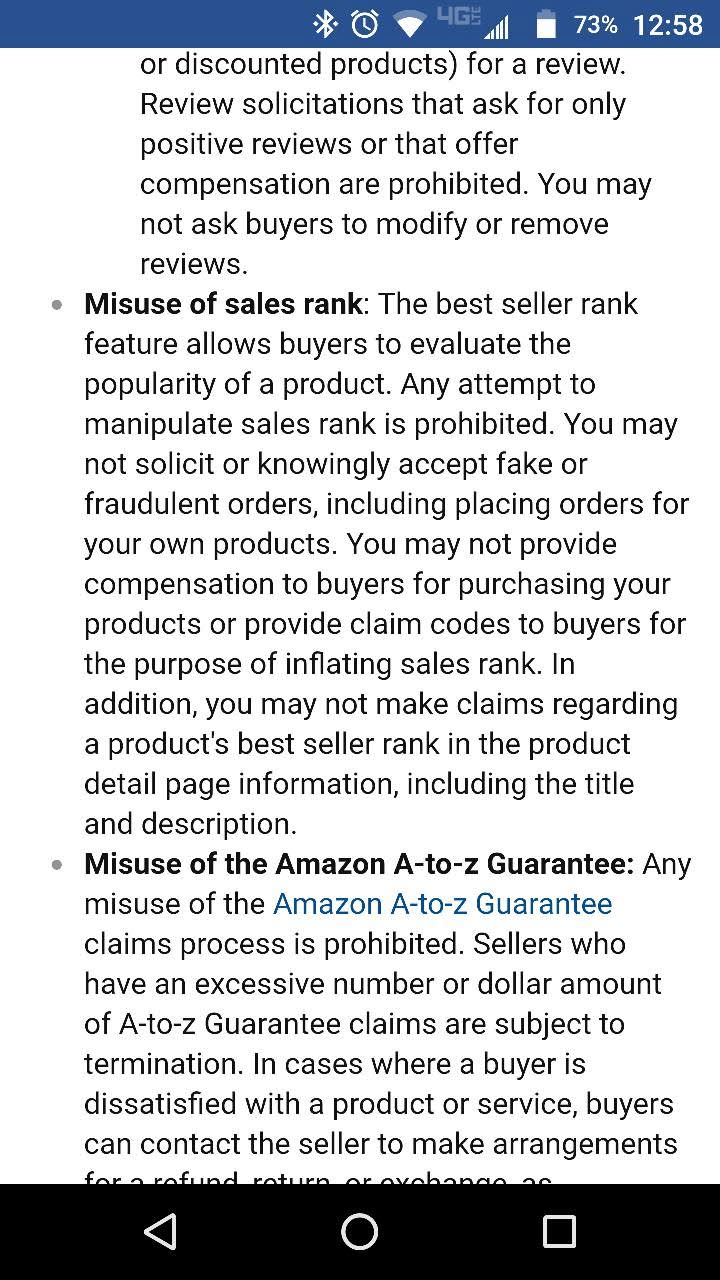 If you're tempted to keep getting these pay-for-play reviews just know it could be the end of your Amazon store. Getting booted off Amazon for a few more 5 star reviews just isn't worth it.
Organic reviews are now the only legitimate way to get reviews for your products.
Check out our review request email example, and start asking for reviews the right way.
Now, I know what you're thinking…
"It's going to be so much harder to get product reviews now…"
And you are right, it is a lot harder now. There is a way to start getting these organic reviews much more easily. I'm about to show you how the new Amazon policy update is a huge problem for a lot of Amazon sellers, but potentially a HUGE opportunity for you…
This Amazon Policy Change can be a HUGE ADVANTAGE for you if you act fast
Think about it like this… The playing field is much more leveled now.
A lot of sellers who had incentivized reviews are now getting them removed from their Amazon pages. This means that many niches that certain sellers had completely under their control are now suddenly viable.
There is new opportunity in niches for you. But here's the really big change:
Most of the big Amazon sellers (and likely your competition) have been relying on these paid reviews to boost their rankings. All of a sudden the rate of reviews they are getting is going to drop. I'm sure most of them are scrambling to figure out how to get more reviews without being banned from Amazon…
The key to getting reviews in this new world of Amazon is actually going to be relationship building. You need to make your customers FEEL something about your products. Currently, the only contact you have with your customers is through the Amazon email system.
Your competition likely doesn't have an automatic email system and strategy to build relationships with customers and get organic reviews. It's likely that your current system isn't set up for that either.
It just became much more important to have these 3 things set up:
An automatic email service for after someone buys your product

A well-written email sequence that builds a relationship with your customer

A different email sequence that speaks to different parts of your market
This is your chance to swoop in and start getting more reviews than your competitors. When you get your automatic organic review grabbing email sequence set up you will start pulling in more reviews than they can.
When you have different email campaigns written for your specific products it greatly increases the chances you'll get a positive review
I want to be very clear here. You must proceed with caution with your emails. You don't want to say you will give them a discount if they leave a review. That would be considered an "incentivized" review, and that is against Amazon's Terms of Service.
Instead, you want to send thoughtful, relevant, and timely emails to your customers, based on thier most recent purchase, to enhance the buying experience and showcase your product and its various use cases.
Your emails can make their buying experience BETTER!
For example:
You can give them useful tips about your product
Tell them you'll give them a free exchange if the size doesn't fit
Mention a charity that you donate to with a percentage of their order
You can tell them why you built the company in the first place to get them more emotionally invested.
Click here to get an example of one of these emails
This new policy has shown that the Amazon rules can change in an instant and put your store in jeopardy.
These are just some of the many ways you can still be successful, and having an automated email marketing service can help grow your Amazon business.
If you want to compete in the new No-Paid-Review world of Amazon you need to set up a well-written email sequence that drips out to people after they buy.
That's how WaveReview helps you. We give you the automated email system, as well as the email templates, to build your Amazon email sequence.
These emails get you more organic 5 star reviews, and more sales, while also helping you avoid negative reviews. That way you can focus on growing your business, while WaveReview works to get you more organic reviews.