If you are just venturing into the music production industry, choosing the best recording software can be a difficult task. What with the numerous options available today? In this article, we shall discuss some of the best music studio software to ease your search.
Compatibility with a wide range of applications is a critical factor to consider when choosing music production software. The option we have included here are compatible with macOS, Windows, and Linux. Music recording software falls in one of three groups. These are:
Digital audio workstations (DAW)
Plugin effects, and
Digital instruments
Let us discuss more on DAW.
Understanding a Digital Audio Workstation (DAW)
A digital audio workstation is a set of tools that a music producer uses to create your music. It is a computer-based program for recording, editing, mastering, and mixing audio files. If you are a musician, you will need to present your talent, sounds, and creativity to have your music produced.
Various studios use DAW as their foundation for music production, especially if they want to have a digital set up. Apart from music producers who use real-time instruments, some renowned musicians use analog systems like synthesizers and drum machines with real mixing boards.
However, many musicians and producers today use computer-based programs. Other players have adopted hybrid studios to combine both analog and digital processes. A DAW is the most critical component of production equipment that you need to create unique sounds.
Choosing the Right DAW for Your Needs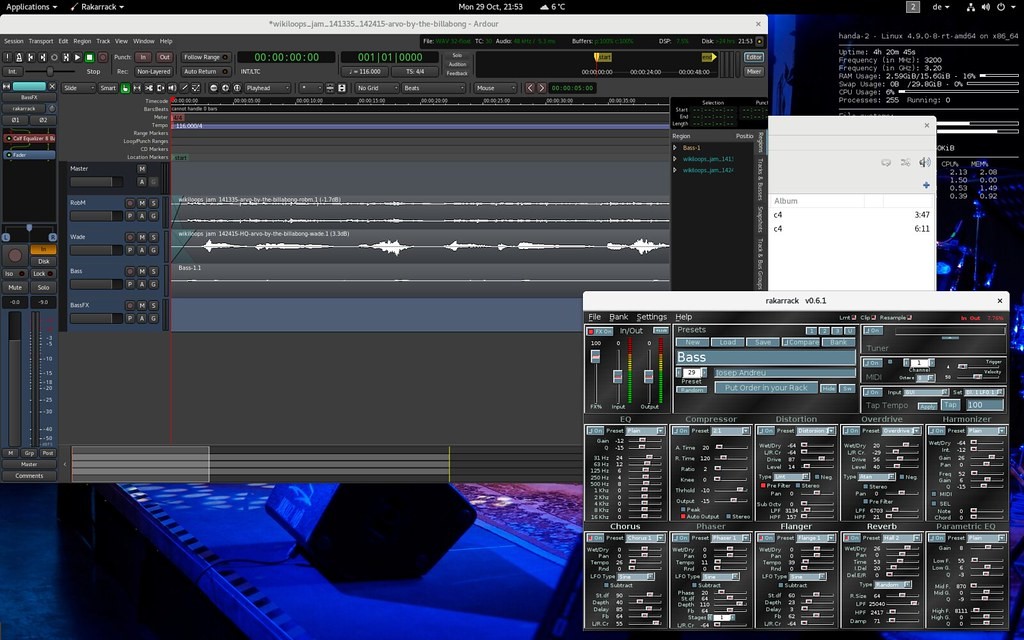 The DAW you pick depends on various factors, as seen below. Remember, the best DAW is one that fits your needs best.
·       Your Budget
While there are numerous free music software options available, it is critical to invest in good quality and long-term DAW. To achieve this, you may have to spend a substantial amount of money. Remember, many music studio software companies offer free trials enabling you to know your investment.
·       Your Experience Level
If you are a beginner, you may want to start practicing with a free version DAW before you can think about investing in an expensive one. Start with something you can easily understand and use to enhance your music production skills.
·       Consider Your Long Term Plans
If you are a novice music producer, it is critical to think about your plans. Investing in beginner software is good, but it will only serve you for the short term. If you plan to pursue your music production venture in the long term, you need to invest in robust software.
Here are some of the Best Music Creation Software
Today, many home studio artists are opting for smart gadget DAWs because they offer convenience. Read on to establish music-making software available today.
1.      Ableton Live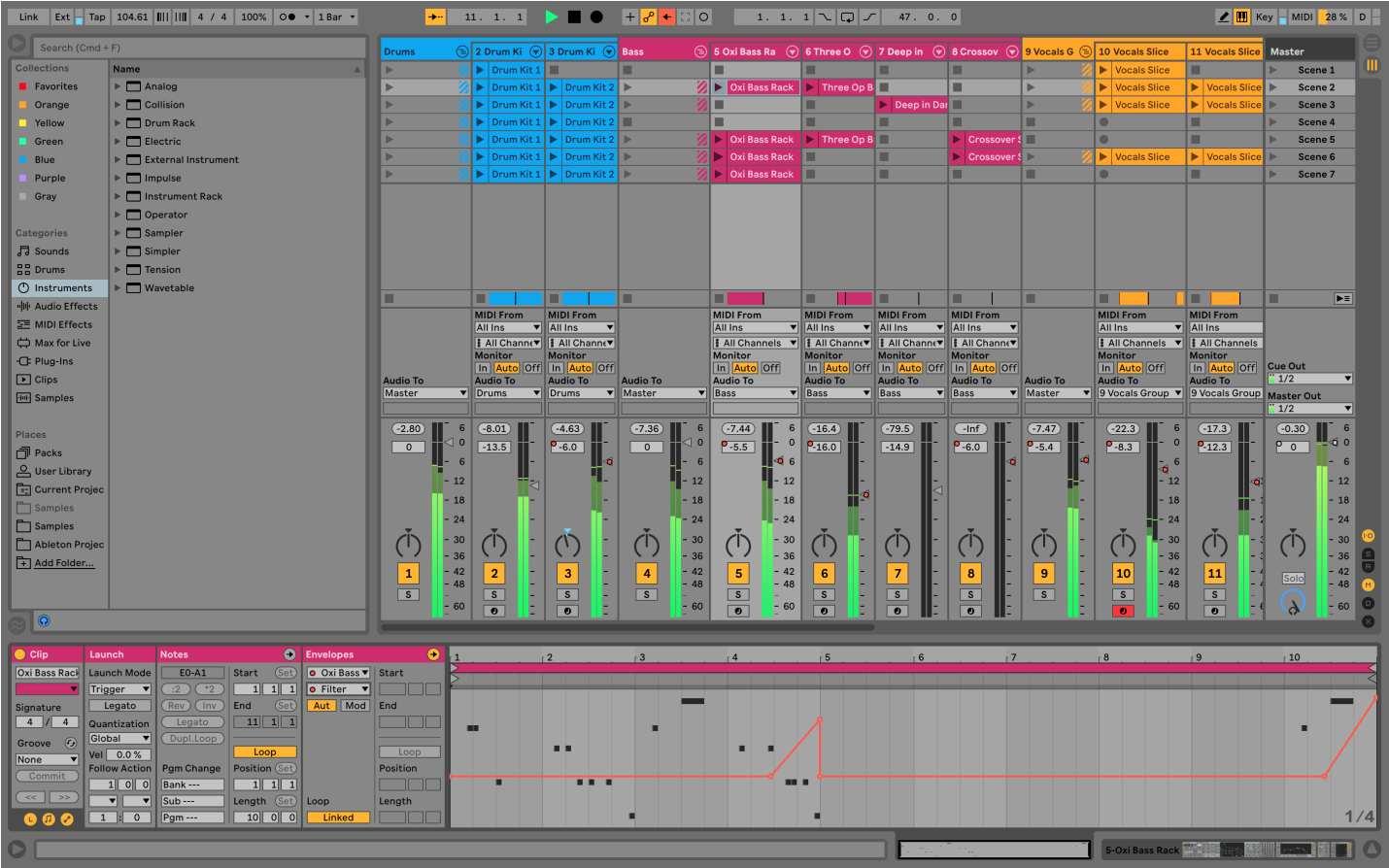 Ableton Live first came into the market in 1999. It has evolved steadily over the years to become a popular DAW that many artists love. Ableton Live comes with excellent features like cut/splice/paste features, and a standard multi-track recording (a limitless number of MIDI tracks/audio for songs).
One thing that sets this DAW apart from its competitors is the flawless MIDI sequencing hardware and software. Further, it comes with various sound packages, but this depends on your preferences and whether your sounds and gear are up to date. Ableton Live features 23 sound libraries totaling approximately 50 GB, allowing you to create music conveniently out of the box. If you are a beginner, this DAW is a great option.
Apart from being excellent music software for live performing, Ableton has collaborated with various brands to design exclusive accessories for the program. Often, these accessories match the user interface with the software to facilitate easy remembering of sounds and pairing. Ableton Live is ideal for beginners and seasoned music producers.
2.     Audacity
Audacity is a robust free audio editor that comes with VST plugin compatibility and recording capabilities. Audio editor is crucial for any music creation setup. Audacity DAW is one of the best free audio editing software available. It is an open-source and entirely cross-platform editor that features a diverse collection of effects and tools.
These features are perfect for all your recording and audio editing tasks. Audacity is intuitive, stable, lightweight, allowing novice music producers to use it with minimal struggle.
3.     Apple Logic Pro X
Apple Logic Pro X is a robust audio workstation, especially if you have a Mac. It is not compatible with PC. Logic Pro X comes with an advanced user interface to facilitate instrument layering and track stacking. It also comes with a score editor and an intuitive mixer for the regulation of plugins. The score editor features nine MIDI plugins that allow you to remodel sounds.
With the score editor, you can create your MIDI tracks with just a mouse. It features a virtual drummer that has a collective drum set to facilitate the visual application of drums. The Logic Pro X also features a programmable arpeggiator, plugins, synths, and a great user interface for easy learning.
You can still use this software as a beginner, but it will take you sometime before you can master it. Logic Pro X boasts a vast community that can assist you if problems arise. It also gives you access to a loop collection and sound library complete with some new effects. If you are looking for excellent sounds for your pads or controllers, this software is a must-have.
4.      BandLab Cakewalk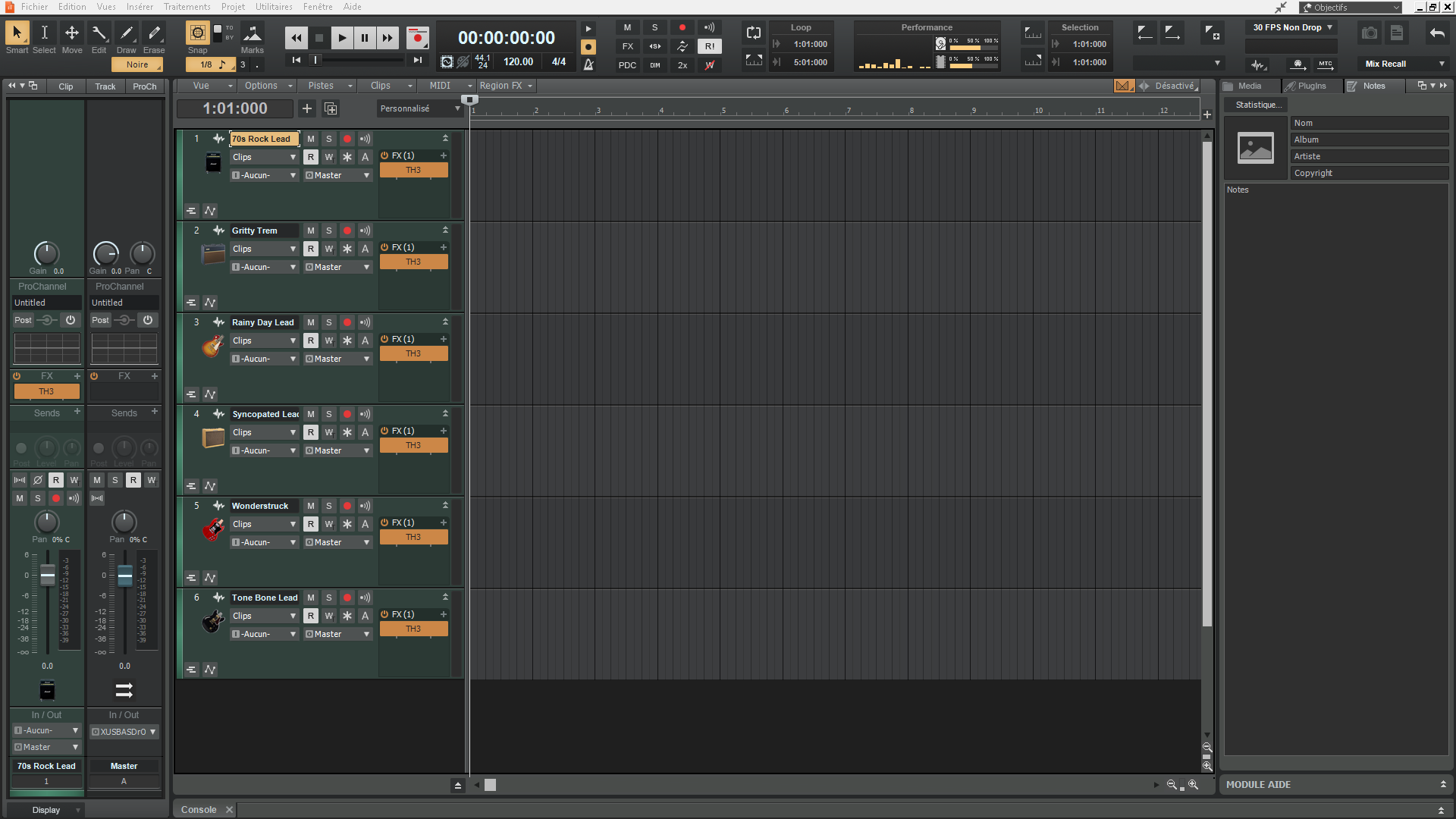 BandLab Cakewalk is compatible with Windows 10 only. Cakewalk, previously referred to as Cakewalk SONAR, was among the first high quality pharmacy online, industry-standard audio workstations. However, Gibson, the brains behind this software, recently stopped development.
Music makers can still use Cakewalk thanks to BandLab, a cloud-based music creation platform that seized the software. Today, you can download the Cakewalk free of charge. This software is an exhaustive music production option that features:
Creative songwriting instruments and tools
Advanced mastering and mixing tools
A collection of editing tools, and
Limitless audio tracks and MIDI that allow you to create your recordings
Once you finish creating your recordings, you can publish them directly to various sites such as YouTube, Sound Cloud, or Facebook.
5.     Surge
Surge is one of the best free synthesizer plugins. It works well with AU, VST, or LV2 plugin in a compatible DAW on macOS, Windows, and Linux. The software is a subtractive hybrid synthesizer that features eight oscillator algorithms and three oscillators per voice.
Seasoned music producers love Surge's robust synthesis engine. Novice producers can leverage the more than 1,000 sound presets that come with Surge. If you are looking for a free yet flexible virtual instrument synthesizer for your music studio production Surge is ideal.
6.     Studio One Prime
Studio One Prime is free music studio software for songwriters and singers. It is a distributed audio recording DAW.
It also comes in handy when in executing small mixing tasks. This software features an inbuilt collection of advanced audio effects that include a channel strip with compression and EQ, delay, and reverb effects, chorus, flanger, and the basic format of Pedalboard, and Ampire (guitar refining effects created by PreSonus Studio One).
Studio one Prime cannot load VST plugins and that limits users to utilizing the features that come with Studio One's free version. If you want to access more advanced features, all you need to do is update your Studio one Pro or Studio One Artist.
7.     Cockos Reaper
This software is one of the most intricate but powerful DAWs in the market today. All you need to benefit from Cockos Reaper is to take time and learn how it operates. You can download a trial version that is valid for 60 days, after which you will need to pay for a license to keep it active.
Reaper is coded by a group of developers who strive to offer the basics of a DAW without including hardly used features. Reaper allows you to drag and drop your FX and VST, cut, outline your MIDI controllers with ease, paste, edit, and split.
Cockos Reaper is a critical open-source software that supports nearly all effects, plugins, and audio interfaces. You can download the trial version and try it for 60 days before purchasing it.
 
8.     Apple Garageband
Garageband is a popular DAW among beginners in the music industry. Still, some seasoned musicians use this software for its ease of use when it comes to recording and simplicity. Compared to Fruity Loops, Garageband is better for novice beginners who use a Mac. This software features a convenient user interface that allows you to envision what you are developing.
Garageband offers excellent presets for guitar and vocal recording, and has adequate effects and amps for the mic or guitar. This software comes with an inbuilt lesson function for the guitar and piano, ideal for you if you want to sharpen your piano playing skills. Garage band outlines the chords and defines them to help you understand music theory.
It supports your regular USB keyboard and gives you some inbuilt loops you can use to practice. You will also get the Smart Controls, interactive control of knobs, plugins, sliders, and buttons with images to envision what you are doing. Beginners can use Garageband to improve their skills because it is free. If you are looking for the ideal music production software that is compatible with iPads then Garageband is a great option.
9.     OrilRiver
A dense-sounding reverb effect is important to a significant mix. To achieve this, you need a good-quality reverb plugin. OrilRiver is a free stereo algorithmic reverb and one of the best VST plugins today.
This software produces better sound quality compared to some expensive options in the market. It is flexible and capable of mimicking great halls, small rooms, and cathedrals. While OrilRiver is an intricate reverb plugin, it comes with intuitive controls and a well-designed user interface. These features make OrilRiver easy to use regardless of your skill level.
10. Propellerhead Reason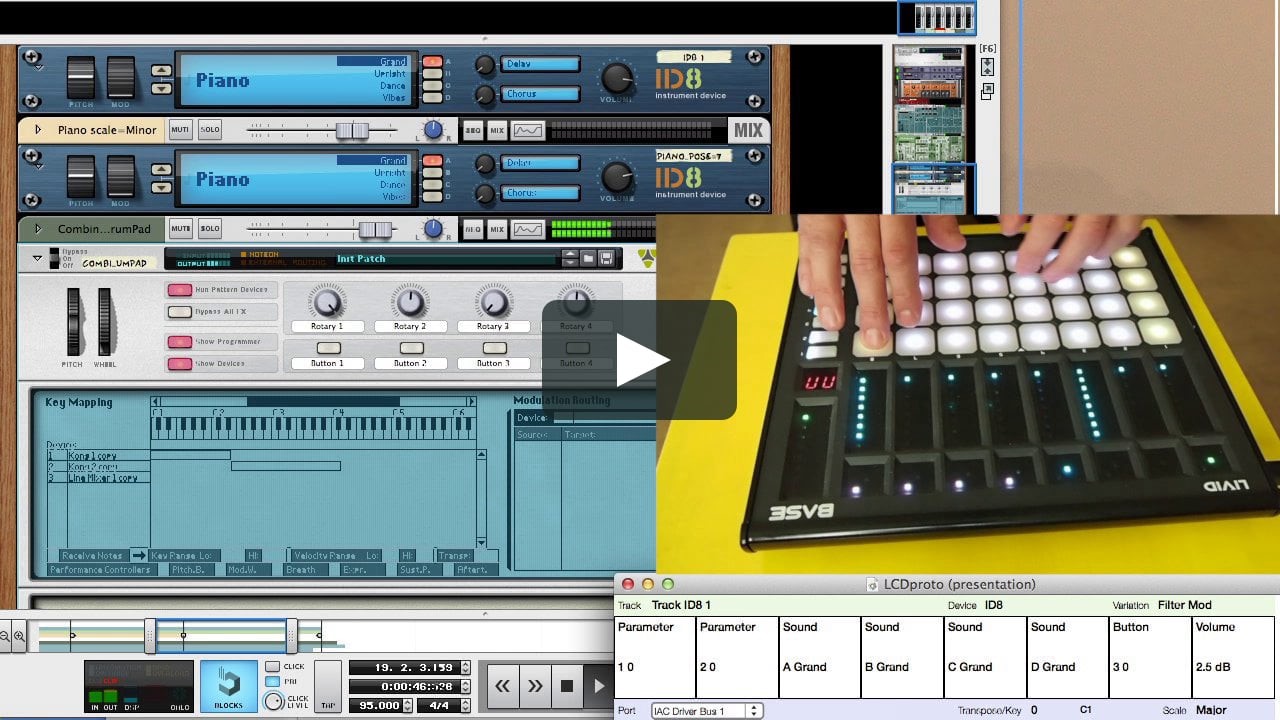 Propellerhead is less popular software in the music industry but quite stable. It allows you to drag and drop components such as effects and synth patches from the interface to the sequencer. It also has a fast system and an exceptional workflow for users within the semi-pro and middle level.
Reason by Propellerhead is neither intricate nor easy. Some users claim that some of the plugins that Reason offers are outdated compared to other DAW such as Fruity Loops. Reason offers a more solid mixing console compared to other software available today. It is a robust DAW for people recording bass or guitar because it comes with a speaker and amp plugins for Softube.
These features are ideal for including presets and effects to your riffs, and it operates well on Mac and PC. Reason can automatically splice and cut audio files. This software is usually precise, but sometimes you may have to clean up. It supports all MIDI hardware, meaning you have the essential features you need in a workstation.
11.  Image-Line FL Studio 20 Producer Edition
Image-Line FL Studio 20 is simple DAW software that is popular among many users. This software was previously known as Fruity Loops. The creators of FL Studio 20 have since developed and enhanced the original software. However, the new edition still has the user-friendly, simple setup that audio production professionals love.
FL Studio also has convenient features. For example, the Piano Roll is among the best you can get in any DAW. Image-Line FL Studio 20 also comes with excellent synth sounds, meaning you do not have to invest in additional synth software.
The team behind FL Studio strives to look after their customers. On purchasing FL studio, you are sure of getting free updates as long as the developers continue making them. You can buy this music studio software on Amazon.
12.  T7 DAW
T7 DAW is one of the best digital audio workstations you can get for free. It is a robust music-making application that is compatible with all major platforms. It offers all the necessary features for recording and weaving a professionally sounding song.
T7 DAW can record MIDI and audio, and it comes with an audio mixer complete with inbuilt effects. This software offers different advanced features like track analysis and automation. T7 DAW can load AU and VST plugins allowing you to enlarge your music production workspace with numerous free VST plugins such as samplers, synthesizers, and effects.
This software comes with some of the most powerful audio plugins. However, if you are a songwriter or singer who wants a multi-track recording app without VST plugin support, Studio One Prime would be ideal. It is crucial to mention that Waveform, a recently released free DAW will replace T7DAW soon.
Remember, freeware DAW is never perfect. If you make massive investments in music production software, you need to purchase a quality DAW. One of the most pocket-friendly DAW in the market has to be Reaper, who's discounted license costs $60. It also offers a 60-day free trial phase.
Some people opt for the trial version of Reaper for a long time. However, if you are using Reaper to create music, you may want to purchase a license in a bid to support its developers. Other popular DAWs you may want to try include; Bitwig Studio and Steinberg Cubase Pro.
If you only want free music production software to facilitate recording and editing of songs without using VST plugins try Pro Tools by Avid.
Should you use Free or Paid DAWs?
A common problem with free DAWs is that they do not allow you to develop professional sounding tracks. Various limitations come with free DAW. In the end, your creativity and music end up suffering.
Free DAWs are attractive and have an easy to use interface. However, they are incapable of polishing tracks, as is the case with their paid counterparts. You can use free DAWs if you are just venturing into the music production arena.
However, your output will not be powerful. Some free DAWs come with VST instruments, but they may freeze or slow your computer down when using multiple features at once. Investing in a high-quality DAW is critical for both novice and seasoned music producers.
With paid software, you can be sure that your output will be robust, and you can easily illustrate your skills to your audience on social media. Always avoid bootlegged versions that do not support updates as they are critical to your DAW software.
Updates come with new instruments, bug fixes, and effects. According to experts, paying some few dollars for stable software and a lifetime update can improve your skills.
Leverage Your Gadgets because they are more Robust Today
Technological advancements have enhanced the performance of gadgets like tablets, laptops, PC, and smartphones. These gadgets feature hardware that allows them to accommodate a cost-effective recording studio at home.
All you need to achieve this is dedication, some well-chosen recording accessories, and a passion for music. Today, young and passionate developers can get substantial experience in hardware, software, and tools from their homes. Choose one DAW that best meets your needs from this list and transform your experience.