You may only know Google for its dominance in search and online advertising business. However, Google has, in recent years, become one of the best, if not the best, business listing and discovery platform on the internet. This is thanks to its hugely popular Google My Business platform used by millions of businesses for online presence and an even larger number of customers around the world.
Why Should I Claim My Business on Google?
One would ask, is Google My Business worth it? Why should I claim my business listing on Google at all?
There is every reason to claim your Google My Business listing given the impact the platform has on business visibility, online presence and your online reputation, more so if you are a small business.  Here are some of the most exciting things happening in Google My Business that you could be missing out on:
According to recent Google search insights, over 56% of on the go searches have local intent. This means that search traffic is shifting towards local businesses. What's more, each of these local searches leads potential customers to GMB listings on Google Maps or displayed as a rich snippet on the SERPs.
Google My Business is the number business review platform followed by Facebook on social media. The two have excelled so much in recent years that they have topple Yelp and other established review websites. What this means for small businesses is that they should be looking at GMB for valuable feedback, visibility, reputation management and free customer acquisition- Google My Business is free.
Over 50% of users on mobile will visit or contact a business they found through local search. This is according to Google search insights published on Search Engine Watch. With a majority of searches coming from mobile platforms( over 88% of searches), you could be missing out on a big chunk of your future customers if you don't have a business listing on Google My Business.
Interestingly, some of the search keywords growing in popularity include specific GMB business information items like "operating hours", "business name near me", business location, storefront, service area, among other terms that could lead potential customers to your profile.
Claiming Your Business on Google
There are a number of approaches you can take if you want to claim your Google My Business listing as outline by Google. This guide shows you know how to:
See if your business is already registered on Google My Business
Claim your business if already exists on GMB
Claim your business listing if it has been registered by someone else
How to claim your GMB listing directly from Google
How to claim your listing from a third party
Automating your Google My Business pages for optimal results and higher rankings
Check If Your Business Is on Google My Business
To find out if your business is already listed on Google My Business, you need to use Google and do a simple search to see what comes up. Use the following search terms on Google: Go to https://www.google.com
Business name- use only the name of your business and nothing else
Business category plus business address- For example, "beauty salon, Wichita falls
Business name plus your business address
Business phone number plus business name
If you use Google(https://www.google.com), the first three search terms will return the best results and show a Google snippet on the right side of your search results if you are on a desktop or laptop browser. If you search on a mobile device, you will most likely get some Google Maps listing of the Business if already exists.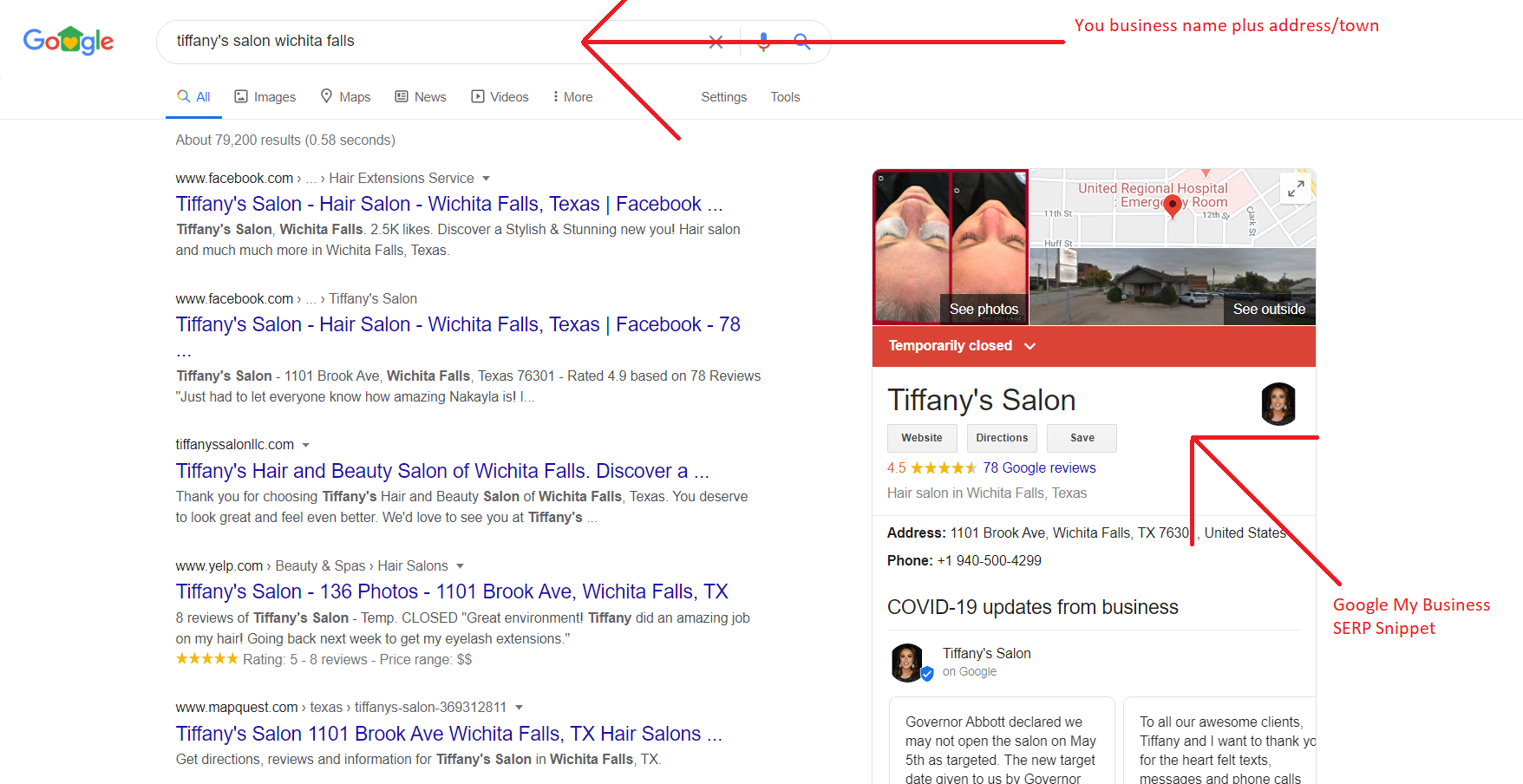 Search by business name plus address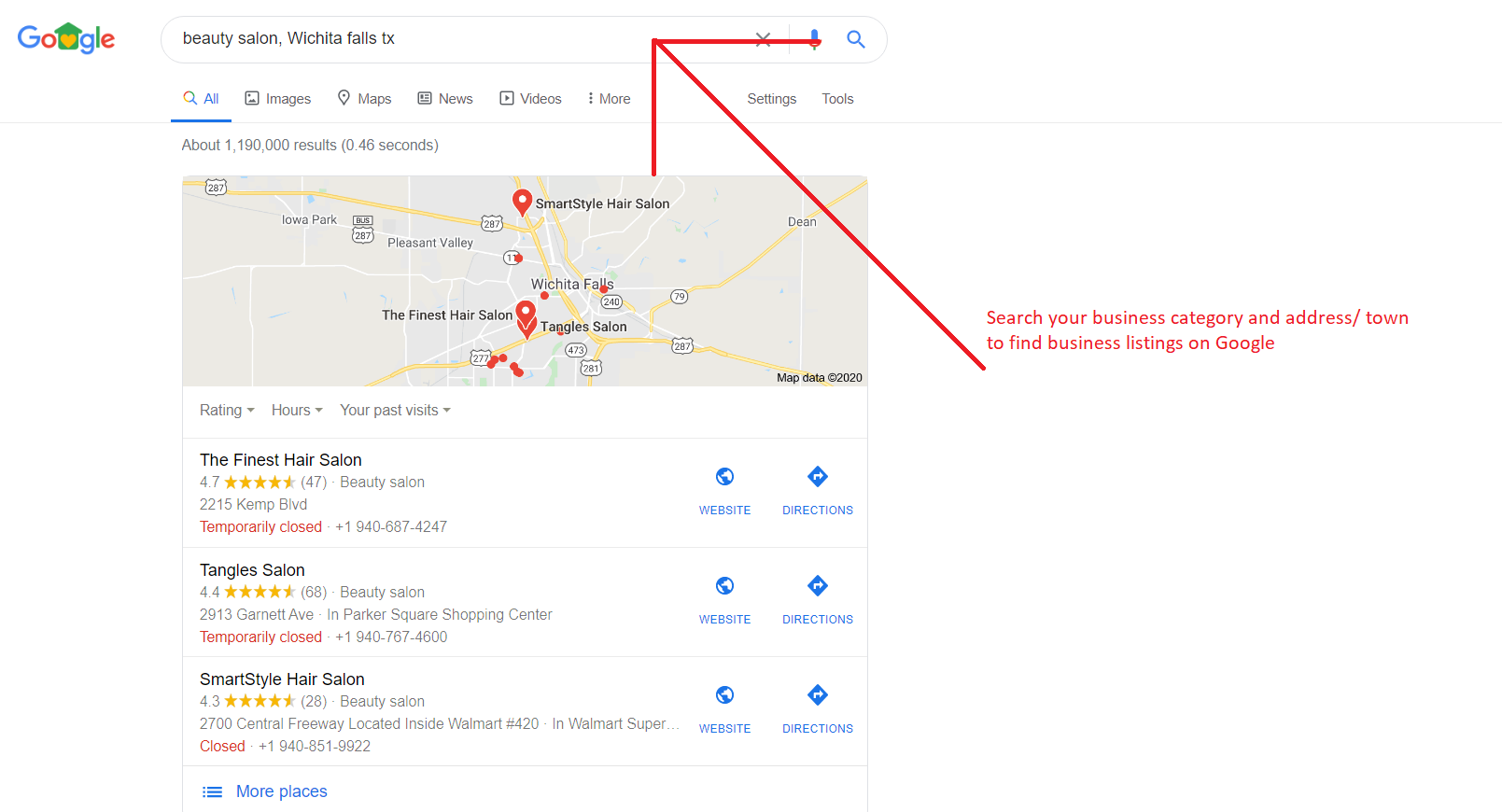 Business category plus address- For example, "beauty salon, Wichita falls
How to Claim Your Business If It Already Exists on Google
You may find a Google listing for your Business even though you didn't create it yourself or have ownership rights over its content. This can happen if a former employee created that business listing, it was generated by Google through customer-generated content or someone else registered the Business without your knowledge.
Luckily, Google is quite welcoming to a business owner who wants to take ownership of their Google My Business page even when they didn't create it themselves. This provided you can provide information that proves you own the Business. Here is how to go about claiming your Business with a Google business account:
Step 1- see if it's officially claimed someone else
First, you need to sign in to your Google profile before you try to claim a business on Google. This will also save you time later when Google asks you to fill in a form to verify your ownership request.
Assuming that you have followed the previous steps to find your business listing on the Google search console, open the correct business by clicking on the business name. You don't have to do this if your business is displayed as a snippet on the right.
Now you need to check if the GMB page is officially claimed by someone else. Scroll down the business listing and look for a link labelled "Own this Business?" and click on it as shown below.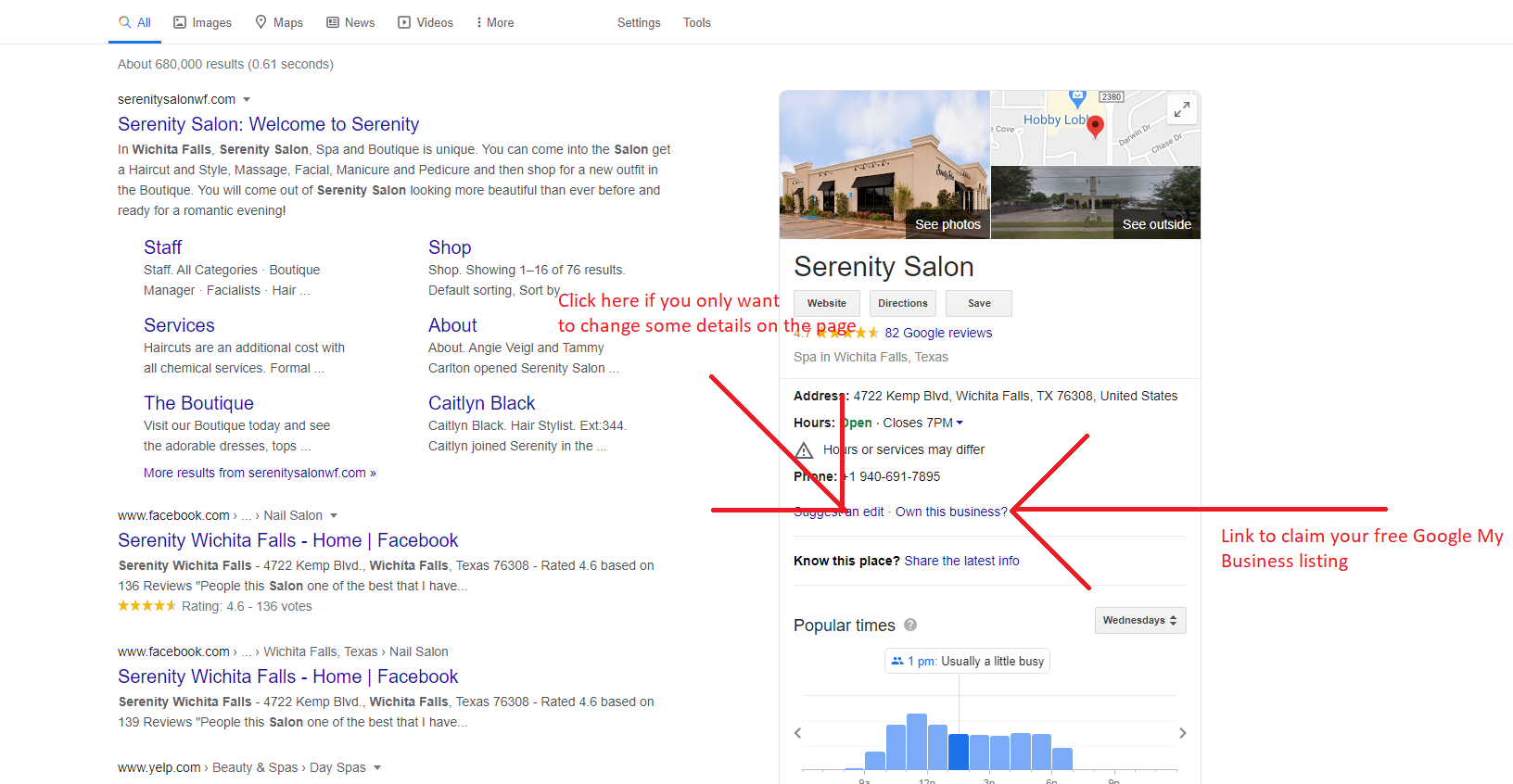 If your business has been claimed by another person, you will see the following page from which you can request ownership or choose claim this business.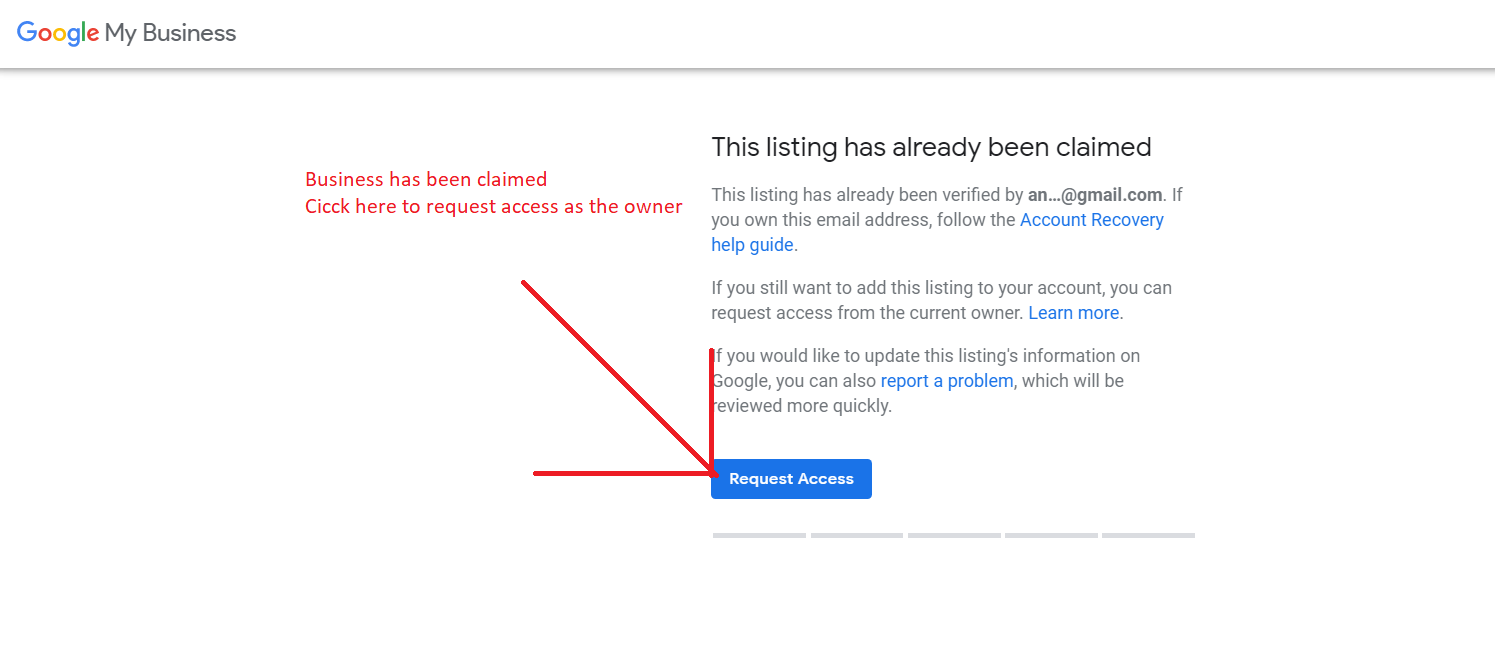 Step 2- request access to the GMB business profile
If you are the business owner but see that the business profile has been claimed by someone else, you need to request access or choose claim this business by clicking on the button at the end of the page above. This will allow you to fill a form requesting ownership of the page from the current business account owner through Google. Fill out the form and submit it.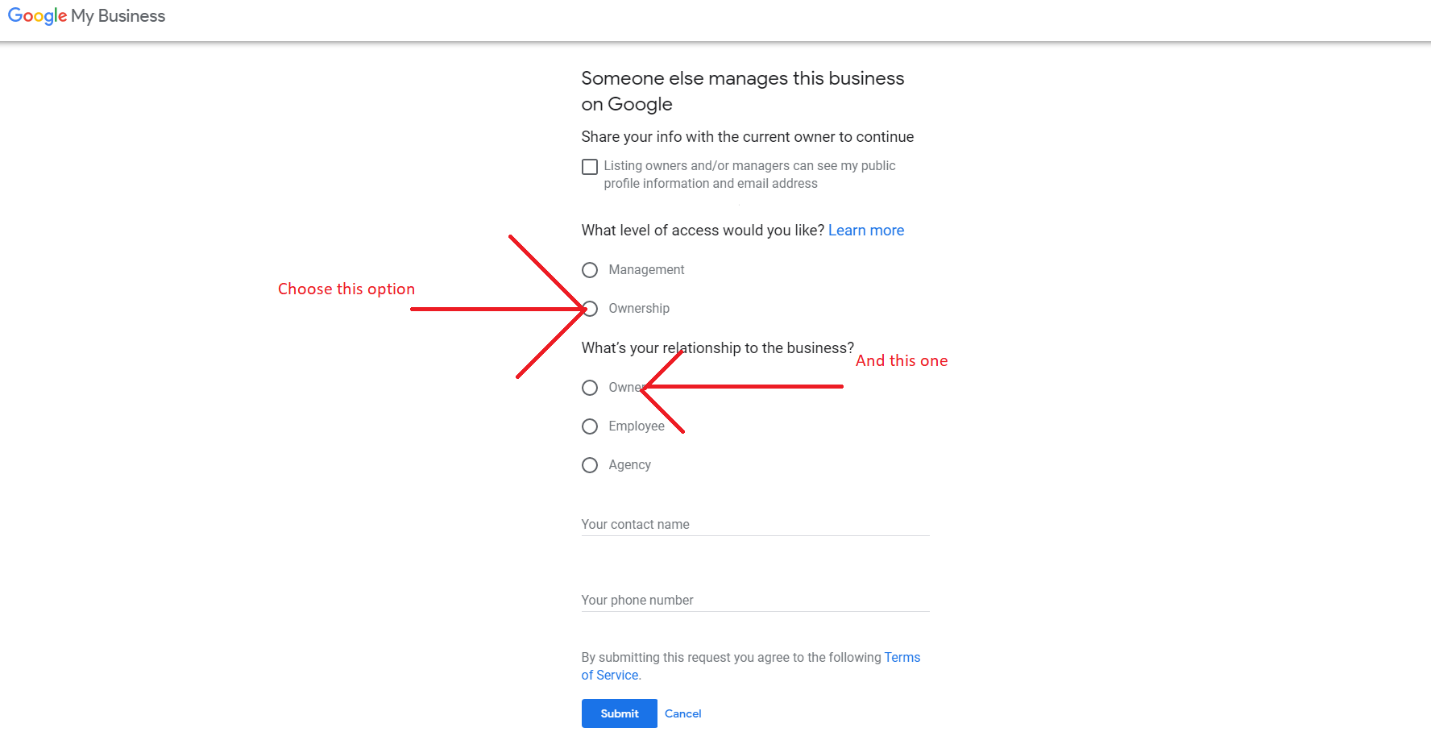 Make sure you choose the correct level of access to have full access to the business dashboard. If you are the owner, you should choose the second option labelled ownership on the first question and the first option for the second question.
What happens after submitting an ownership request?
When you submit a request to own an already claimed page, Google will get in touch with the current account owner. They will have to approve or deny your request within a set period (mostly 3 to 7 business days) otherwise you will be given access to the page after the verification process is completed.
Should they grant permission, you will be contacted through your Gmail address and given a link to access and verify that you are the owner of the Business. Google might require that you provide a physical location or address to which they will mail a verification token to complete the claim and verification process. When this is all done, you can go ahead and start optimizing your page, running digital marketing campaigns and improving your local SEO as an area business.
If the current owner rejects your request, you have two options: launch and appeal to Google and prove that you are the legitimate owner or request edits from the current owner. However, it's advisable to claim full access to your Google My Business page as it can make or break your business online.
Claiming an Unclaimed Google My Business Page
If your Google My Business page is user-generated for google reviews or not registered at all, the process is relatively easier and quicker to complete. By clicking on the "Own this Business?" link, you will be redirected to a page where you will provide additional information and shown how to verify your account using a verification code.



If the business is not registered at all, then go ahead and claim it by visiting business.google.com and registering your Business on Google My Business!
From there, you will get access to a free Google My Business dashboard to manage all aspects of your listing such as reviews, descriptions, opening and closing hours, products, posts, offers and so much more.
Claiming Multiple Businesses on Google My Business
If you are trying to claim multiple Businesses or storefronts,  (say you operate a franchise or chain of businesses), Google does have a bulk claim feature for this. You'll need to create a spreadsheet with location information according to Google guidelines and request access for any storefronts that may have been claimed by someone else in the verification process.
Automating Your Google My Business Pages
Managing your Google My Business pages for optimal results and higher rankings can be challenging. If you struggle with claiming your business profiles on Google, managing negative google reviews and ranking on local searches, then you should consider our automation software. The software can help you solve all these problems and many others to make sure you are getting maximum results in online sales or call from your GMB page.
Optimizing Your Google My Business Profile
Optimizing your Google My Business profile is crucial for increasing your online visibility and attracting potential customers. Google My Business (GMB) is a free tool provided by Google that allows businesses to manage their online presence, including their appearance in Google Search and Google Maps. To help you optimize your GMB profile, here are some key steps you can take:
Claim and verify your business.
Provide accurate information.
Optimize your business description with relevant keywords.
Choose appropriate categories and attributes.
Add high-quality photos and videos.
Encourage positive reviews and respond to feedback.
Monitor and respond to customer inquiries.
Utilize Google Posts for updates and promotions.
Monitor insights and analytics for performance.
Keep your profile information updated.
Utilizing Additional Google My Business Features
Google My Business is a powerful tool that allows businesses to enhance their online presence and engage with customers effectively. In addition to the core features like managing business information and customer reviews, there are several additional features available that businesses can utilize to maximize their benefits. Here are some of these features and how they can be leveraged:
Google Posts: Share promotions and updates to attract customer attention.
Messaging: Directly communicate with potential customers for better engagement.
Questions & Answers: Answer queries to showcase expertise and build trust.
Google My Business Website: Create a simple website without extensive web development.
Appointment Booking: Streamline booking process for service-based businesses.
Products and Services Showcase: Highlight offerings to attract customer interest.
Google My Business Insights: Gain data and analytics to make informed decisions.
Reviews Management: Respond to reviews to build a positive reputation.
Conclusion
Claiming your business on Google My Business is a fundamental step in establishing an authoritative online presence. It allows you to control your business information, interact with customers, and gain valuable insights to enhance your marketing efforts. By taking advantage of this free and powerful tool, you can boost your visibility, attract more customers, and ultimately grow your business in the competitive digital landscape.