Building an awesome Google My Business page is an important step towards boosting your local SEO and online visibility. However, an important but often mismanaged part of Google My business has to do with Google reviews. Responding to both negative and positive reviews can be the difference between raking in thousands in online conversions to falling flat on your face as a result of negative reviews.
How can a business owner with a Google My business Profile use the reviews to their advantage? What happens when a negative review is posted on your page? To help you make the most out of your Google My Business Page, this guide is specifically created to help you respond to Google Reviews the right way.
Some of the topics covered in this guide include but are not limited to:
What are Google Reviews?
How do Google Reviews Work?
What are the Benefits of Google Reviews?
Do reviews affect search engine rankings?
Responding to Google Reviews

Should I respond to Google Reviews?
How do you reply to online reviews?
Why and how to respond to bad reviews
When and how to remove a bad Google Review
Why You should respond to positive reviews
How to respond to a good business review

Automating Google reviews with reputation management software
What are Google Reviews?
Every time a potential customer searches for a local business or anything related to your line of business, say "local dance club", they will most likely land on your Google My Business page. It's great that they can see your business on Google, but it also means that they can see what your previous or current customers are saying about you and their relevant customer experience.
Google My Business has taken over from review sites like Yelp and become the gold standard when it comes to business reviews.
Google is the leading online business review site followed by Facebook
Google currently leads in search by a country mile
Google Maps is the leading navigation app used in mobile phones and infotainment systems across the world.
Google services are used on android devices that cumulatively take over 74% of global mobile devices.
Assuming that you have already set up your GMB on business.google.com, you are probably going to start receiving some reviews very soon, given the number of people who use Google search to find local businesses. Below is an example of a reasonably popular local business with tons of both negative and positive reviews on Google.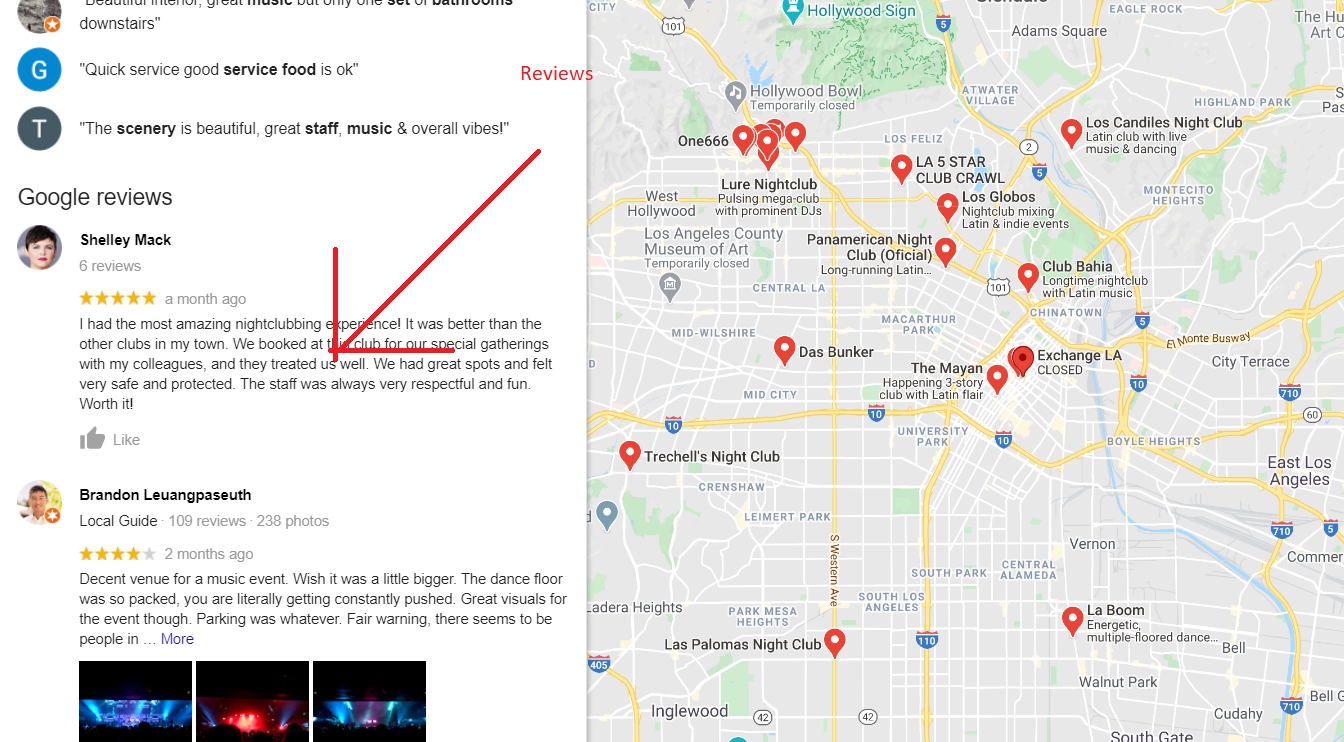 As you can see from the above screenshot, unhappy  customers and happy customers do take time to leave detailed reviews (including photos) on a business they have dealt with in the recent past.
Understanding the Different Types of Google Reviews
Google Reviews are an important aspect of online reputation management for businesses. They provide valuable insights and feedback from customers, allowing others to make informed decisions about whether to engage with a particular company or not. Understanding the different types of Google Reviews can help businesses assess their strengths and weaknesses, address customer concerns, and improve overall customer satisfaction. Here are some common types of Google Reviews:
Positive Reviews
These are reviews where clients express their delight with a product, carrier, or normal revel in. Positive opinions often highlight the first rate quality of merchandise, incredible customer service, or different positive components of the commercial enterprise. These reviews are treasured for constructing credibility, attracting new customers, and boosting the general recognition of the enterprise.
Negative Reviews
Negative critiques factor out clients' dissatisfaction with a commercial enterprise, product, or provider. These reviews may be critical of numerous aspects, including poor customer service, product defects, transport troubles, or any other terrible experiences. Negative evaluations have to be taken seriously as they could appreciably effect a commercial enterprise's recognition. Responding right away and professionally to negative reviews is important to illustrate a dedication to purchaser pleasure.
Constructive Reviews
Constructive critiques offer specified remarks about particular components of a business, providing tips for development. These evaluations can highlight regions wherein a enterprise is performing well and provide actionable insights on regions that need interest. Constructive evaluations often include each fantastic and terrible factors and may be helpful in identifying opportunities for growth and improving the customer experience.
Fake Reviews
Unfortunately, fake opinions are normal on-line. These critiques are commonly written with malicious intent, inclusive of via competition or people who haven't clearly engaged with the enterprise. Fake opinions can be each nice and poor, aiming to both boost or damage a corporation's reputation. It is important for organizations to document and flag any suspicious opinions to Google to preserve the integrity in their evaluation profile.
Verified Purchaser Reviews
Verified consumer opinions indicate that the reviewer has made a actual purchase of a products or services from the business. These reviews deliver more weight as they offer credibility and display a firsthand revel in. Google verifies these reviews with the aid of matching them with a buy history from the enterprise, presenting greater trustworthiness and transparency.
Unverified Reviews
Unverified evaluations are published with the aid of those who have not always made a purchase from the business. While those reviews can nonetheless provide valuable comments, they'll carry less credibility in the eyes of capacity customers. It is crucial for organizations to interact with unverified opinions as properly, addressing issues and demonstrating their commitment to patron pride.
How Do Google Reviews Work?
In recent years, Google has capitalized on its search and mobile market share to gain a foothold on the commercial end. Google My Business is just one of those core products that makes Google a viable commercial entity. They do spend plenty of resources to get local businesses to register on Google My businesses and to encourage customers to review those businesses. Those who have watched the 2013 movie Internship know how this is done in real life.
On the customer end, Google is very keen on using its locations services to encourage customers who've visited your business to live a review and rating. You've probably received notifications on your Google maps in the past, asking you to review a business you visited recently. This is how those reviews end up on your Google My Business page!
Responding to Google Reviews
While you cannot control who posts or what they post as a Google review on your business page, responding to each review- both bad and good reviews- is a proven way to manage your online reputation. Failure to respond to your negative feedback or at least automate with reputation software leaves your business exposed with no room to mitigate when your reputation takes a hit.
How do you go about responding to current, present, and future customer reviews on Google reviews? Are there guidelines or best practices on responding to Google reviews?
Here are some of the ways you can manage your online reputation on Google My Business through active response or automation!
Should I Respond to Google Reviews?
Recent studies into the performance of business pages on Google show that responding to unhappy customer reviews improves a business's ratings. For instance, a very detailed analysis by Harvard Business Review found an apparent correlation between ratings and businesses actively responding to Google reviews. Even Google has a comprehensive guide on how businesses can use Google My Business app to respond to reviews and identify fake reviews.
So, yes, you should find a way of responding to each business review according to the following guidelines to boost your ratings, create a connection with your customers, and manage your online reputation. To make it even easier, you should come up with custom response templates for each review.
How Do You Reply to Online Reviews?
For Google My Business reviews, reviewing and responding to online reviews is relatively easy. You can either do it through the Google My Business app or the Google my business dashboard on a desktop browser. If you are signed in to Google with your business account, you can also reply to reviews directly in Google maps. Any response you give will appear below the original review labeled as coming from your business and visible to future customers.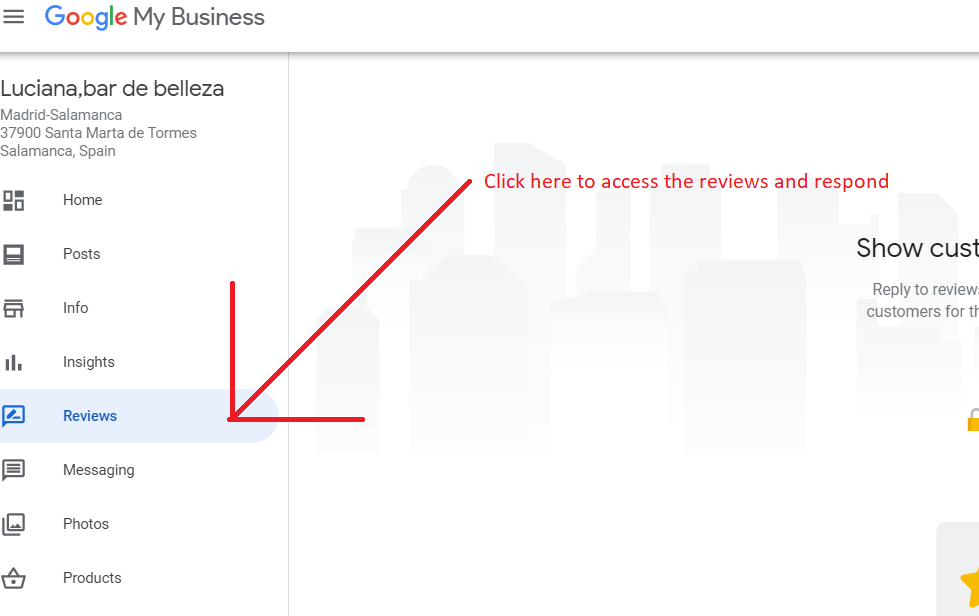 The Process- How to Respond to Google Reviews on The Dashboard
Sign in to Google my Business on business.google.com
Google has recently updated the interface to make it cleaner and easier to manage, so you can just click on the reviews tab on the left pane. This will allow you to access reviews on your business page and start replying to each individually. Also, keep an eye on faker reviews and report them to Google for removal.
If you happen to use the Google My Business app, you can set it to send a notification whenever a review is left, and you can go ahead and respond to it immediately. Alternatively, just fire up the app and tap the menu icon (three horizontal bars on the left- or the accordion) and choose "respond now" or reviews depending on the version of the app you are using.
Use a custom response template to respond to negative reviews.
How to Respond to Bad Reviews
Responding or managing bad reviews enables you to build trust with future customers, get valuable negative customer feedback, or positive customer feedback and hopefully salvage a potentially bad situation for your business reputation.
To this end, these are the best practices when responding to bad reviews publicly.
Start with a respective greeting addressing the customer with their first name- Example "Hello Kevin."
Apologize for the mistake or issue that led to that bad experience
Feel free to ask some questions if the issue they have described in the review is not clear.
You can offer to help them get it resolved or promise to make the necessary changes if it's an issue with your business.
Thank them for their feedback and explain how it helps improve your business. Remember to sign with your name and position at the end!
Additionally, you can also ask the customer to give an updated review on the same if the issue they had was resolved.
Here are some of the things you shouldn't do when responding to bad reviews
Avoid engaging a reviewer privately
Don't be confrontational as it will be counterproductive and make it worse. You'd rather not respond to the review or report it to Google than confronting the customer through a public response.
Don't respond with an account other than the Google account belonging to the business.
Positive Google Reviews
Why You Should Respond to Positive Reviews
It might seem counterproductive or unnecessary to respond to a positive review response on your Google My Business Profile. However, it is recommended that businesses take time to acknowledge good reviewers for numerous reasons. Responding to positive reviewers makes them feel valued and therefore increasing the chances of them becoming loyal customers. It also shows new or future customers that you really care about every customer and can, therefore, be trusted.
Here are some recommendations for responding to positive feedback on Google reviews
Start with a cheerful salutation/ greeting addressing them with their first name- example, "Hi Mike!"
Thank them for enjoying your services but do not mention the positive review response
Encourage them to come back again or share useful information that would be of help to them, such as:

Current or upcoming offers
Discounts
Store locations near them
Special offers reserved for loyal customers to improve their customer experience.
Sign off with your name and position in the company.
The secret to responding to positive reviews is being genuinely happy about a satisfied customer and not being grateful that they left a positive review. Therefore, don't make it sound like you are giving them a thumbs up for a positive review.
Automating Google Reviews
Managing every review on Google can become a headache quickly if you receive many reviews or too busy with other marketing projects. If you find yourself losing track of your google reviews and failing to respond to negative google reviews and positive reviews, you may want to consider our reputation management software. Using our automated review management software will enable you to get more five-star reviews, manage or reduce negative google reviews, and stay on top of your online reputation.
Best Practices for Responding to Google Reviews
Here are some short best practices for responding to Google reviews:
Respond promptly and within 24-48 hours.
Maintain a polite and professional tone.
Personalize your responses and reference specific details.
Thank reviewers for positive feedback to show appreciation.
Address negative reviews with empathy and offer solutions.
Encourage offline communication for complex issues.
Stay consistent with your brand's voice and messaging.
Analyze feedback to make improvements.
Respect privacy and legal considerations.
Build a positive online reputation and engage with customers.
Conclusion
Responding to Google evaluations is critical for coping with your on-line recognition. Be prompt, expert, and personalize your responses. Express gratitude, cope with worries with empathy, and inspire offline conversation. Stay steady, analyze feedback, and appreciate privacy and prison considerations. These practices build a high quality popularity and display commitment to consumer satisfaction.