If you're a music teacher, you can do so much with the ideal music teacher scheduling software. Besides registering your students and distributing automated reminders, you can also schedule your lessons. Schools can leverage the software to track instructors' availability, record the total teaching hours students receive, and gauge instruction levels with tutors.
Schools should identify the right software to generate accurate customer invoices and avail an online portal to facilitate teacher, parent communication. Parents can use the software to track their child's musical progress and receive lesson schedule updates.
Problems with Scheduling by Hand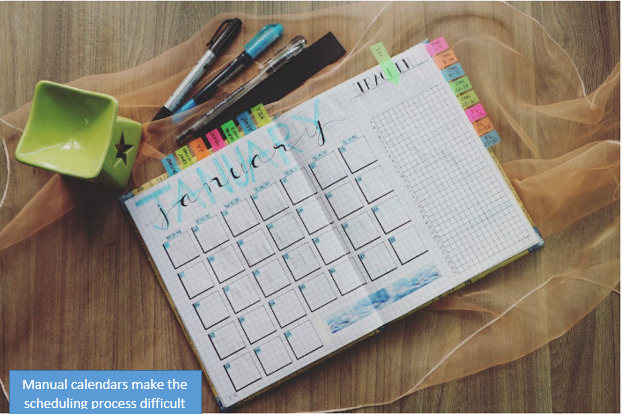 Using manual scheduling systems like spreadsheets triggers various challenges for schools. As a result, teachers must learn how to identify and deal with the challenges to boost the institution's efficiency. The ideal scheduling system can increase student success and retention, financial and administrative efficiency, and teacher satisfaction.
Unsuitable scheduling can hinder students from completing their studies and graduating on time, drain the school's resources, and frustrate instructors. If you're still using manual scheduling systems, you're likely to face various challenges, as seen below.
· They are Time Consuming
Besides being tedious, manual scheduling is a time-consuming activity that requires tutors to organize different data sources, enter data manually, and scan and correct documents for possible errors.
Teachers spend a considerable amount of time on these tasks, consuming time they'd have spent on strategic roles. Having a music teacher scheduling software eliminates manual work, allowing tutors to focus on evaluating their student's needs, streamlining processes, and collaborating with academic units.
· Scheduling Conflicts
A scheduling conflict occurs when multiple activities or events are planned simultaneously. In this case, music teachers and their students may be unable to execute their roles accordingly. Often, this results in tension within the team, missed deadlines, delays, and eventually failed projects. Music school software allows tutors and their students to remain proactive while preventing potential scheduling disputes.
· Problems Coordinating Multiple Projects
Managing music lessons manually can be difficult, especially for teachers who handle different classes. In this case, the chances of overlapping your plans or forgetting some of them are high. Without a solution that generates automatic alerts or reminders, students and teachers may end up missing classes and wasting crucial opportunities.
Advantages of Music Teacher Scheduling Software
Using music studio scheduling software comes with various advantages, such as:
· Encourages Parents to get Involved
Apart from learning institution owners, music students, and their teachers, this software allows parents to monitor their children's progress easily. Tutors can leverage an online messaging and student portal to communicate with parents regarding homework and practice requirements. The portal can also be a mode of communication to alert parents about their children's behaviour.
· Augments Teaching Resources
Music management software provides a scheduling system to ease practice areas, help teachers in their lessons, and facilitate renting of music equipment. This allows institution owners to establish possible flaws within the teaching faculty, enabling them to spot opportunities for revenue growth.
· Enhances Accountability
Scheduling software creates visibility between parents and teachers. Parents are able to monitor the class schedule and ensure their students attend classes accordingly. They can also receive their music lesson invoice and make timely online payments.
· Better Communication
Sharing music teacher notes and schedule updates with students and their parents can be difficult when using manual systems. The software ensures all parties receive alerts notifying them of any changes. A reliable system allows the school to share shift and schedule changes in real time, enabling students and teachers to prepare accordingly.
· More Visibility and Reduced Costs
With scheduling software, teachers are able to determine the number of hours they work. This way, the institution cuts down unnecessary overtime costs. What's more, tutors can create a master plan and track weekly schedule changes in a centralized place. This increases efficiency while saving time.
· Reduces Errors, Increasing Efficiency and Revenue
The ideal scheduling system performs automatic updates in private music billing systems. This eliminates errors that may occur in a manual system and guarantees accuracy. Further, the system is mobile-compliant, allowing users to make last-minute changes easily and fast.
Institutions using the right scheduling software for their needs will enjoy revenue increases because it facilitates efficient appointment scheduling and management. Moreover, it can track student needs and ensure teachers customize their lessons accordingly.
Scheduling systems help teachers send students and their parents reminders on upcoming appointments, which can boost revenue for the schools.
Why Music Teachers Need Scheduling Software
Teaching requires lots of effort, planning, and preparation of study materials. Further, a teacher's administrative tasks involve effective communication and planning. Adopting a digital scheduling system ensures tutors are less overwhelmed. Here are reasons why every teacher should use an online scheduling system.
· Better Time Organization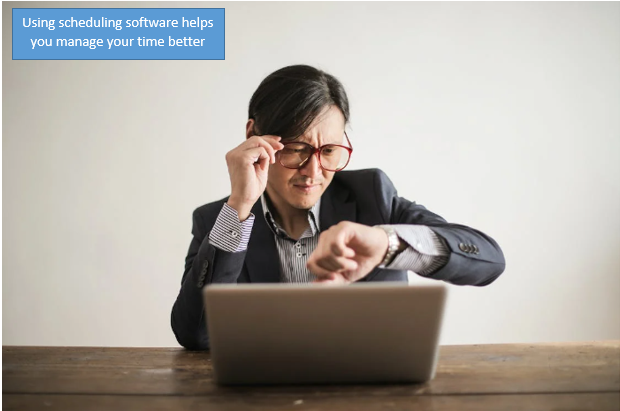 A scheduling system helps teachers plan their classes, lessons, breaks, and free time effectively. It also enables them to consider their availability for every slot. Before the emergence of advanced software, tutors executed these tasks manually, increasing the risk of error while increasing time consumption. Teachers should leverage technology to reduce burnout and facilitate the effective organization of their schedules.
· Enables Students and their Teachers to Plan Ahead
Having a schedule for your class and lessons allows you sufficient time to plan the lessos while eliminating gaps in the curriculum. It also helps students figure out upcoming tests so they can prepare in advance. The software allows teachers to create, edit, and delete classes and test schedules they no longer need. This way, the institution can make minor changes in the schedule in case of unexpected teacher absences.
· Reduces Disputes
Manual class scheduling can be a time-consuming and tedious process. However, tutors can ease the activity and eliminate errors from overbooking classes or teachers through the software. It features a calendar, allowing teachers to check availability and create appropriate schedules.
· Allows Tracking
Users can view and generate schedules that align with the teachers, students, and relevant departments through the system's centralized dashboard. This software helps the parties understand the composition and activities happening in every class. School supervisors can monitor the lessons teachers and their students cover and ensure they adhere to the schedule.
· Save Time
Having a scheduling system can play a critical role in saving your time. You can use it to assign time to each activity, easing the handling of operational activities like timetable management, creation of class schedules, periodic test planning, peer collaboration, creating of study materials, and communication between students and their parents. Software facilitates time management, ensuring all the parties involved complete the tasks efficiently.
Choosing the Right Scheduling Software
There are various things to consider before selecting a school scheduling system, as seen below.
· Cost
There are numerous simple yet cost-friendly scheduling tools available. You can even get free options online. While free tools may be easy to develop and user-friendly, they lack critical features that an institution may need. Sometimes free and simple tools hardly offer the necessary functionality and may often hinder operations in the school.
Choose a simple-to-use yet advanced system to ensure your business enjoys solid and practical functionality. Sophisticated feature-dense scheduling systems have ultra-modern customization abilities. These include messaging, waitlists, and appointment booking forms. They also feature inbuilt client management tools.
Often, complex scheduling software with greater functionality is more expensive. The scheduling system you choose should be easy to use for clients and cost-effective for your business. Consider the cost incurred when using manual systems and the output of the processes you want to automate.
· Ease of Use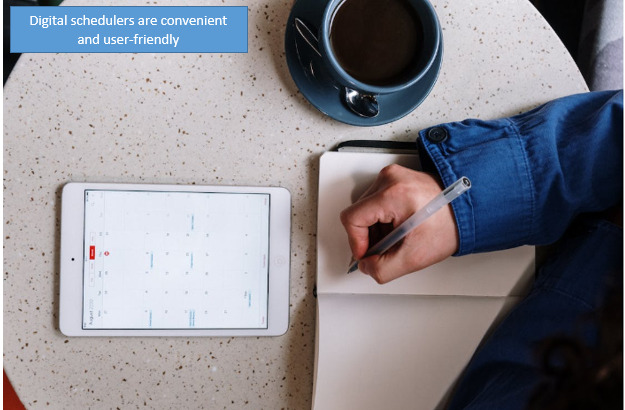 Implementing an advanced automated scheduling system in your institution can be daunting. First, you must ensure that users have an easy time using it and can manage their other roles with ease. Worth mentioning is that easy-to-implement tools are not necessarily the best option.
Picking the easiest-to-use software can deny you advanced features that may be critical for your business operations. Often, software with advanced features is highly likely to save your institution money and time in the long term.
Remember, a more complex system calls for a longer learning curve. However, it gives your institution more control of its operations. Ensure the tool you choose for your school offers functionality but is still manageable to ensure people use it with minimal struggle.
· Support Offered
The teachers, students and their parents should be able to manage the scheduling system without requiring frequent technical support. Remember, software is prone to challenges, and sometimes you may experience problems or require advice from a technical expert. Here, your service provider must be on call to offer comprehensive and fast support where necessary.
They should be conversant with the system and accessible on different channels like email, chat, or phone to avoid downtimes. Before choosing a scheduling software, determine whether the provider offers self-service resources such as video tutorials, how-to manuals, and FAQs. These can come in handy to help you save a dire situation.
Features of Music Teacher Scheduling Software
Different music school software comes with various features. However, some of the common ones available in nearly all systems include:
· Online Scheduling
The ideal software should allow users to make their bookings online. Online scheduling eliminates pressure from the entire team and enhances the institution's efficiency. Such convenience will enable users to focus on high-priority roles. Further, an online scheduling-enabled system reduces the risk of miscommunication and errors.
· Multiple-team Collaboration
Teachers, the administration, students, and teachers can leverage this feature to collaborate from any gadget in real-time. This hastens decision-making while keeping parents updated about their children's progress.
· Online Payment Options
In today's digital era, nearly everybody wants a service that allows different ways to make payments online. Online payments save time for the institution and the parents. While the parents don't have to queue at banks to make payments, it saves institutions from preparing and mailing bills. Besides reducing the risk of late payments, transactions are speedy. Clients also receive payment reminders to ensure they understand their upcoming bills.
· Ability to Manage Multiple Teachers and Students
The ideal software should allow users to create multiple login accounts. It should also allow the system administrators to edit every account's access level to control what every user sees. Providing individual logins is an effective way of securing user data. Further, it ensures users are not constantly logged out when others attempt to log in.
Tips for Successful Implementation
A school management system can boost the institution's productivity upon successful implementation. Here are tips to ease the process.
· Have a Communication Plan
Discuss your plans with your team early enough and listen to their suggestions. You want to avoid a situation where you bombard your team with a new system because it may trigger resistance. The right communication plan will encourage all users (teachers, students, parents, and the school management) to embrace the software and understand its benefits to them and the school.
· Choose Your A-team
Identify members of your teaching staff who possess software, computer, and leadership skills and build an A-team. You can also invite users from the non-teaching fraternity. Work together to push for the scheduling system implementation and use.
· Train Users
Adapting to the use of new systems can be challenging. However, the institution can ease the process through continuous training. Work with the service provider to execute the training in phases.
Start by training your A-team before training the other users. Create a training schedule and encourage teachers, students, and parents to attend. Award them completion certificates after completion to encourage others to join subsequent training sessions. You can also create short training videos for students.
Top 5 Music Teacher Scheduling Software
With many ultra-modern music teacher scheduling systems available, choosing the best for your needs can be challenging. Here are some of the popular options available.
1. Jackrabbit
Jackrabbit is a cloud-based software that allows music schools to manage online registrations, process payments, and track student attendance from a centralized platform. Jackrabbit comes with inbuilt calendars, enabling tutors to view monthly, weekly, and daily classes. They can also track student progress and produce absence reports. You can get Jackrabbit Class for $49 or Jackrabbit Plus for $89 monthly. This app has a 30-day free trial option, and the monthly billing depends on the number of students in the system.
2. OneStop Booking
OneStop is a booking and scheduling platform with three plans featuring a 30-day free trial. Get the Lite plan for $22 per month. This plan accommodates 50 contacts per month, and you can make payments in multiple currencies. The premium plan is $49 per month, while the enterprise plan is $99 per month.
3. My Music Staff
This studio management system automates the way teachers run their classes. Tutors can use it to create invoices, schedule lessons, and record payments. System administrators pay $14.95 monthly for the service and $4.95 for every additional tutor, student, or parent.
4. iClass Pro
iClass is a cloud-based management solution ideal for large and midsize studios. It supports attendance and class management, online payments, and staff scheduling. Currently, the platform offers two pricing plans. The signature plan costs $129 monthly, and the premium option is available for $299. The elite plan, which costs $199, is set to be released in 2024.
5. TeacherZone
With this platform, small and midsize institutions can manage classes, monitor student attendance, and track payments. Its pricing plans include the growing multi-teacher option available for $99 per month, which supports 75 students. The established multi-teacher plan goes for $149 and supports 125 learners. Tutors with up to 500 students can choose the enterprise plan that costs $199 monthly.
Conclusion
With scheduling systems, teachers can use their lessons effectively. Apart from reducing the risk of errors, it also enables teachers to work harmoniously. Students can use the platform to check their lesson schedule. Parents can rely on it to monitor their children's progress in school. One of the best booking and scheduling systems is the OneStop booking platform. It supports multiple users, is cloud-based, and is user-friendly. Visit our website to subscribe to this platform and move your school to the next level. Remember to reach out to us about your experience.