One of the core tasks of a music teacher is to ensure your students get the best education to edge them closer to achieving their life goals. But running a music teaching business needs lots of administrative work. For example, you must manage the student portal, online booking, scheduling private lessons, payment processing, and invoicing. These tasks are tedious, time-consuming, and complex.
Luckily, you can ease them through automation, and using music teacher booking software is one of the most effective ways of doing so. Appointment booking systems are tools that allow students, teachers, and parents to book, adjourn, and cancel their schedules through an app. You can program the application to indicate your business hours and the availability of resources and services. This tells your clients when they can book their preferred services.
The app eliminates the risk of over-bookings or double-booking and allows teachers to block off times to show service unavailability. Music school software enhances your efficiency, and this helps you save time which you can invest in teaching your students. This article will help you understand:
The benefits of management software and how it can help you run your teaching business more efficiently.
Features to consider in music teacher software
How to choose the best appointment scheduling software for your music teaching business
Leading music teacher booking software options
Some of the best music teacher booking software available
Benefits of Music Teacher Booking Software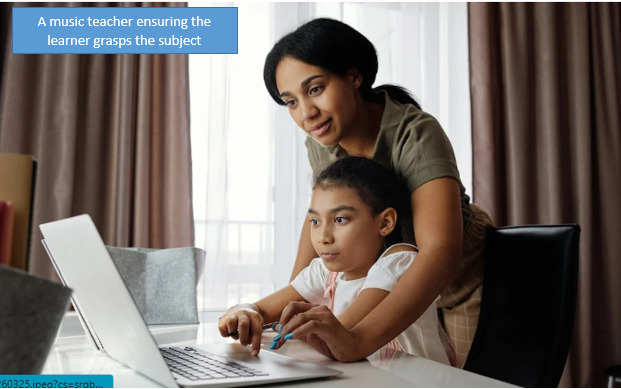 Learning institutions can use music school software to register new students, schedule lessons, and circulate automated notifications. They can also use this tool to track teacher availability, record the number of teaching hours each student receives, and match teachers to their instruction levels. Here is why music school software is a must-have for your school.
· Save Time and Streamline Scheduling
Managing the schedule of your music teaching business can be challenging and time-consuming. But you can streamline it with software solutions. Software solutions come in handy to help trainers execute their schedules with ease.
The scheduling feature in an online music lessons app allows music teachers to plan appointments with students, create a calendar of their lesson times, and send notifications to parents and students.
This software can also facilitate the management of a music studio schedule, and this allows you to determine your teaching and free time. This way, you avoid over-scheduling and double bookings, which often result in burnout and reduced productivity.
Another significant benefit of scheduling apps is their time-saving components. They have a user-friendly ad intuitive interface which helps you manage classes, events, and appointments better. You can customize your schedule to accommodate your changing needs, receive alerts to ensure you don't miss your lessons, and set recurring appointments.
Booking software automates a big chunk of your manual processes for your music teaching business. You can also send automated invoices, and this eliminates the need to create and send invoices manually.
· Simplify Payment Processing
Managing payments for your students is critical for the success of your teaching business. Collecting tuition, tracking expenses, and managing finances can be a time-consuming and complex task. But the right software solution can help you streamline and simplify it.
Effective booking software should feature an inbuilt payment processing system to facilitate automatic and secure payment collection. You can also use it to generate and track invoices and provide multiple payment options like PayPal and credit cards. Automating these tasks is a good way of saving time, eliminating errors, and ensuring the efficient and smooth running of your business.
· Improve Communication with Students or Parents
Effective communication plays a core role in the success of teaching business. You'll need to communicate with staff members, parents, and students, and this calls for a powerful system that can help you share information easily and maintain organization. Some systems feature an integrated messaging system. This improves communication and also streamlines workflow. As a teacher, you can take advantage of these tools to track lesson plans and work with your colleagues to maintain a smooth workflow.
· Increase Overall Organization and Efficiency
Lots of administrative work goes into running a teaching business, such as processing paperwork and tracking student information. But you can streamline them with a reliable system, and this saves you time and reduces stress.
The ideal management software should allow teachers to track music student data such as lesson schedules, payment history, and contact details. You should also use it to generate crucial documents like invoices and reports. This helps you manage your business better while maintaining organization.
Features to Look for in Music Teacher Booking Software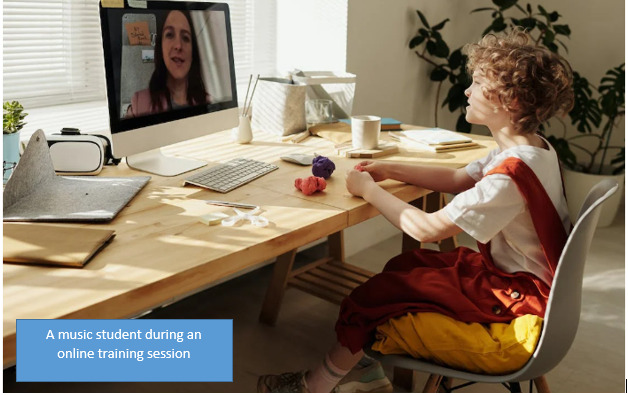 The software you choose should have the right features to meet your needs. Here are some of the must-have features of a music school system.
· Online Scheduling/calendar Management
Calendar management involves the organization and scheduling of appointments and events in a manner that optimizes productivity and efficiency. Calendar management features help you and your business track deadlines, and this reduces unnecessary conflicts. You can approach online scheduling or calendar management in various ways, with the popular ones being the following:
Pomodoro technique.A time management strategy that requires you to execute a task uninterrupted for 25 minutes before taking a five-minute break. This technique improves motivation and focus by breaking huge tasks into small, manageable functions.
Task batching.This technique involves placing similar tasks together and working on them to completion without taking a break.
Time blocking.Here, you plan your day by dedicating blocks of time to specific tasks. For example, you can dedicate 30 minutes to reading and responding to emails. With the calendar management feature, you'll be able to:
Use a shared calendar which helps you coordinate with colleagues, track events, and meet deadlines.
Set reminders to help you remember crucial deadlines or events
Color code to ensure you organize your calendar visually, which makes it easier to find what you need
Maintain a master list of all your activities and events to facilitate organization while keeping you atop your schedule.
· Payment Processing and Invoicing Capabilities
If your school still creates invoices manually, then you understand how tedious and time-consuming the task can be. And this is why you should consider automating it. Good music school software helps you to automatically generate invoices based on your unique billing needs. What's more, it allows you to customize email templates and invoices, and you can also personalize the messages your clients receive.
Automating this task helps you save more time, and this explains why you should choose a system with lots of automation features. For example, instead of creating your payroll manually, you can automate it and free your time for more critical administrative matters.
· Customizable Lesson Templates and Curriculum Management
The curriculum is the cornerstone and critical draft of the music lesson plan for teachers. A curriculum management system includes instructional materials, topics, learning objectives, assessment plans, and sequencing of lesson plans.
Designing a curriculum in a school where multiple music teachers teach one course requires collaboration, and every teacher must share their ideas. Music school software should have a curriculum management system complete with customizable lesson templates. These will help teachers and the administration maintain a well-organized, up-to-date, and easily accessible digital curriculum. A curriculum management platform:
Increases Student Achievements
Advanced technology helps teachers to customize a music lesson based on individual student needs. Of course, this solidifies and improves the learning process, edging learners closer to achieving their goals.
Automates the Organization of Curriculum Materials
Managing a curriculum for the whole course throughout the school year can be challenging, more so where there are multiple teachers. You can use common scheduling software to store music lessons, share plans, and name files accordingly. Doing so helps teachers organize their plans to facilitate easy access.
Avails Resources in Different Formats
A curriculum management system makes the learning module more interesting since resources can be circulated in different formats. The teacher can practice with different learning methods based on the learning requirement, and this produces better results. Some of these resources include quizzes and videos, and these play a huge role in helping music students remain engaged.
· Student/parent Communication Tools
A scheduling system can help teachers communicate with their clients better. Sending reminders eliminates payment and assignment delays. Communication tools like email and text messages keep your students and their parents aware of what's happening in the institution.
Proper communication helps you establish a solid relationship based on transparency, respect, and trust between the administration, teachers, and students. Many school communication applications feature instant messaging, and this ensures teachers and parents communicate effectively. What's more, these tools are easy to use, which means users don't have to invest lots of time to learn the system. Again, they can access this feature from their smart mobile gadgets.
· Reporting and Analytics Features
Using comprehensive reports to evaluate your business performance helps you realize opportunities to boost growth. Scheduling systems that allow school owners to manage up-to-date detailed reports for lesson transactions, teachers, and students can help you recognize opportunities and issues before they arise.
Top Music Teacher Booking Software Options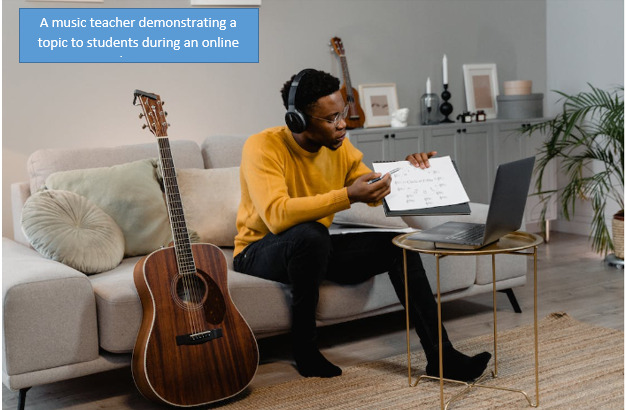 If you're looking for school management software, here are some options you should consider.
· Teachworks
You can use this business management software to help your studio or school handle online billings, bookings, and student records. If you're an administrator, then this platform can come in handy when creating student groups, tracking lending of musical books and instruments, and scheduling group or private lessons. Teachworks helps you send your students and their parents about upcoming lessons or payments. Features in this app include:
Email templates
Communication management
User access
Analytics
Automated reminders
Performance tracking
Invoicing
Businesses can use Teachworks to create teacher profiles, customize fields, and calculate teachers' working hours and wages automatically.
Teachworks Pricing
If you choose this platform, you'll enjoy a three-week free trial without feature restrictions. Suppose you love the app and wish to continue using it. You can subscribe to any of its plans which are:
Starter available for $15 plus an additional $0.25 for each student lesson monthly
Growth which costs $45 plus an additional $0.15 per student lesson monthly
Premium is available for $175 and an additional $0.05 for each student monthly. This plan gives you access to over 50 free Add-ons and integrations and numerous customizable features and settings
Reviews:
Justine said: "Our favorite thing was being able to really customize the appointments. We could make the appointment title anything we wanted, so we were able to essentially use Teachworks as an additional communication tool within our office."
Amanda: "We really like the automatic invoicing and the ability to connect with other products like Stripe and Quickbooks. The ability to create custom forms has also helped us onboard students more quickly."
Meena: "Overall, it's a good system, although there are actually a lot of bugs. I've had major problems with invoicing this term. Direct debit is only sometimes automatic – you have to do it manually for some customers, and for others, it's automatic."
· Acuity Scheduling
Acuity Scheduling has since become part of Squarespace. It's an appointment scheduling application that you want to customize your booking operations but aren't tech-savvy. This cloud-based platform enables you to manage your bookings online.
It allows you and your colleagues to view your timetable in real-time and can also synch calendars based on your time zone. Acuity Scheduling allows you to send regular reminders and alerts to help users understand their appointment schedules.
The scheduling feature in this platform supports third-party application calendar synchronizing, embeddable calendars, customizable intake forms, and group scheduling.
Acuity Scheduling Pricing
This app gives you a 7-day free trial, after which you can subscribe to the following plans.
Emerging Entrepreneur for $15 monthly
Growing Business for $25 per month
Powerhouse Player for $50 per month
Reviews
Cory said: Overall, I love Acuity Scheduling; it's my right hand in this business I'm running by myself. It takes a huge load off of my plate. Once things are set up – which can be as easy or as grueling as you want to make it – it's just a seamless part of my life and business.
Sarah: Features like package and discount management, an embeddable design, and support for several time zones are only the beginning. When compared to the prior scheduling program we utilized, this one has far less issues. It's so simple yet so effective. Client calendars are synced, and alerts are sent out automatically. Zoom's user interface makes setting up online meetings a breeze.
Emily: I loved it, but Acuity is not with the times, and the technology wasn't modern enough to continue to trust it and use it for our business.
You can read more Acuity Scheduling reviews.
· SimplyBook.me
This platform provides a booking solution for both small and enterprise companies. Besides getting a customizable booking website, businesses can include a booking widget on their pages.
SimplyBook.me is based on custom features, and this means users can choose what they need for their booking system. Some of the application's custom features include: offering loyalty points, accepting payments, enabling intake forms, selling gift cards, implementing waiting lists, and offering loyalty points.
Clients receive booking alerts through sms or email, and users can also connect with social media and add a Book Now option. This allows clients to book appointments from those platforms.
If your teaching business is large, you can make use of the SimplyBook.me platform's enterprise solution to manage all your appointments in different locations.
SimplyBook.me Pricing
You can use the free plan, which gives you access to 50 bookings and one custom feature. Other plans are:
Basic for $9.90 per month. It gives you access to 100 bookings and custom features
Standard costs $29.9 per month and allows you 500 bookings and eight custom features
Premium is available for $59.9 per month and features 2000 bookings and unlimited custom features
All plans include a Facebook booking widget, unlimited clients, staff scheduling, time zone conversion, and automatic reminder emails.
Reviews
Paula: "What's nice about SimplyBook.me is that you can customize which features you want."
Gloria: I love the ease for our clients to book, and it has a built-in website. It integrates with Square and is very affordable. The websites are beautiful, not very customizable, but you can manage.
Jack: "The site is fairly simple but still clunky in its editing ability. I would not recommend this if you are hoping to be able to provide much customization to the aesthetic to match your brand."
Read more reviews about SimplyBook.me
· OneStop Booking
OneStop.io is an online booking platform ideal for music teaching school owners. It offers numerous tools to ease staff management and allow you to grow your business. You can use this platform to process payments, send reminders to your clients, generate invoices, and track every operation in your business.
OneStop Booking's bird eye feature allows you to monitor your dashboard, and this means nothing goes unnoticed. For example, you can track teacher reviews, act on incoming requests, receive notifications on pending payments and paid invoices, and confirm client appointments or staff holidays.
OneStop.io simplifies your client's order process system and manages client and staff data. What's more, the platform is easy to use. Other features include:
Smart dashboard.If you are the admin, then you'll check all organization data on one screen. The platform provides a customer's and staff's dashboard, and this helps them view booking details.
Bookings on one calendar. You can implement your customers' and staff's calendars with this platform, allowing you to view and manage bookings in a centralized place.
Build your company website.The OneStop Booking team can help you build your company website, and for this, you'll pay $100 monthly.
OneStop Booking Pricing
While you'll get a thirty-day free trial, there are other subscription plans which are:
Lite is available for $22 per month. It gives you access to 50 bookings
Premium plan goes for $49 and grants you unlimited bookings
The premium plan costs $99 monthly
Reviews
Victor: "This is an amazing piece of software! The best marketing investment you can ever do! Since we have started using it, our facebook reviews have 3xd!!! And of course we only get 5 star reviews… 🙂 We are using it in connection with MindBody and it works perfectly! Very well done to the team! (And by the way, I came to write a review by myself because I am just so blown away! :)"
Mike: "No one sells your products better than your customers, so it's always been our top priority to get 5 star reviews. For years we used the other leading Amazon review system, but switching to WaveReview literarily doubled the rate of 5 star reviews we were getting. I love hearing about all the happy customers but, more importantly, having the exponential social proof has pushed our sales through the roof!"
Enrique: "We are very impressed and pleased with the results of Wavereview. In the few weeks of operation it has allowed us to know the opinion of almost 50% of our guests, a truly significant figure compared to our previous survey system!"
Check out more OneStop.io reviews
· Appointy
This cloud-based scheduling platform helps businesses and professionals manage their appointment scheduling routines and activities. It can be customized to suit your teaching business needs. You can use Appointy's website widgets to accept appointments from your website.
Sub-domain customization for the booking page is also available, and so is Facebook integration which you can use to incorporate booking functionalities into your School's Facebook profile. Besides tracking attendance, you can set events and specify vacant time slots
Appointy Pricing
If you choose Appointy, you'll get a 14-day free trial without the need of a credit card. The app offers a free plan which supports one staff, five services, and unlimited bookings. Other plans are:
Pro plan for small businesses is available for $19.99 per month but billed annually. If you prefer a monthly billing plan, you'll part with $29.99 per month.
Business plan for medium businesses, which costs $39.99 per month with an annual billing. Monthly billing for this plan costs $49.99 per month
Enterprise plan for multiple location businesses costs $59.99 monthly, billed annually.
Reviews
Tony: "I am able to retain my customers, all the while attracting new ones . All from the same app."
Lena: "2 years ago was easy to use. Still affordable. 2 years ago was supported and had good customer service."
Johanna: "That two (or more) different people can't use the same email address and that you can't access your customer by clicking on their name in the schedule portion of the software."
How to Choose the Right Music Teacher Booking Software for Your Needs
Before choosing a music teacher booking software for your business, consider the following factors.
· Cost
There are many simple yet affordable and free booking tools available today. While they come with simple, easy-to-build, and user-friendly schedulers, they lack crucial features your business may need.
Not all low-cost software is ineffective for your business. But sometimes, cheap software will not offer your business functional and practical functionality. Advanced software can be user-friendly while also catering to your business needs and still remaining within your budget.
An online booking system should be easy to use and cost-friendly, based on your business needs. Before choosing a scheduling system, consider the cost your business will incur by lacking the tools you need to automate your tasks.
· Ease of Use
If you're struggling to implement automated booking software in your company, just know you're not alone. This is because the idea can be overwhelming. You want to ensure people can use it with ease and your employees can manage it along with their other tasks. That your software should be intuitive is a given. But you should not choose a tool only because it's the simplest to use because sometimes they're not the best for your needs.
Choosing an overly easy-to-use tool means you're likely to miss out on the features some of the advanced options offer. Often, excellent software features save your business money and time in the long term.
If your tool is complex, you'll need a longer learning curve, but it's okay if it'll give your business and scheduling operations more control. The software you choose should fulfill your needs and those of your clients. Choose a tool that gives you the functionality you need for your business and is manageable enough for your staff.
Worth mentioning is that your clients will love the right booking software. On the other hand, your staff will love software that automates various scheduling tasks.
· Your Feature Needs
Watch out for the features you need out of your scheduling system. Ask yourself the following questions.
Can the Booking System Merge Multiple Teacher Schedules into One?
Many scheduling systems in the market allow users to develop individual schedules for every instructor. These are ideal if your business caters to multiple booking appointments. But separating individual schedules can become unmanageable, especially for businesses with multiple employees accepting appointments.
Before you choose a scheduling system, ensure it can handle the complexity of your operations. For example, suppose your business offers appointments for different services or locations. The system should automatically block their availability when they're engaged and unblock them when they're free.
Can you Develop, Customize, and Allocate Different Appointment Bookings and Agreement Forms?
The appointment scheduler should provide customizable forms for your clients to streamline the booking process. Booking forms with customizable options help you collect every kind of information your business requires for varying schedules.
What Security Level do you Need?
Choose a system that offers the security level your business needs to protect your data and client information. For example, suppose you want employees to access and use the software. But you want everyone to access different information in their accounts. Ensure the system can allow you to manage security settings with ease.
· Tips for Testing out and Comparing Different Software Options
If you're comparing different software options, you want to:
Outline your priorities and criteria. Use a matrix of checklist to specify and rank your preferences and criteria
Leverage an online directory like Capterra to sort software options depending on categories and criteria. Doing so will help you narrow your options down.
Don't solely rely on online ratings and reviews when comparing software options
Test the software using samples, trials, and demos.
Use a spreadsheet or scorecard to list and compare your findings and impressions
· Tips to Make Your Transition to New Software Easier
Before transitioning to new software, you must consider the imminent changes to your business operations, personnel roles, and resource use. Here are tips to ease the transition process.
· Explain the System's Benefits to Your Staff
Many people resist change and worry about its adverse effects on their work. You want to sit your staff down and argue out why you want the transition and its positive impact on the entire company. After implementing the new software, evaluate positive changes and explain how it has improved operations in the organization.
· Give Your Staff Time to Experience the System
Allow your employees to work with the software, get conversant with it, and understand how it works. To make the process more exciting, roll out a beta version and let your employees execute their tasks via the software. Doing so helps them learn about the system's capabilities.
· Have Your Staff Trained Professionally
Part of your software implementation process should involve professional staff training. Invite an expert to talk to your staff and ensure everyone understands how the system works.
· Offer Ongoing Training for Interested Staff
Additional training ensures you have people who are well-conversant with the system. They can help their colleagues manage the software with ease.
· Choose the Software Cautiously
Take time to choose the right system for your business. That way, you eliminate the need to keep switching to different systems. Invest in good software, and that will save you money and time in the long term.
Conclusion
Music teacher booking software helps you:
Streamline scheduling and save time
Communicate better with students, their parents, colleagues, and the school administration
Simplify payment processes
Boost the efficiency of the institution
There are numerous software options available today. As a music teacher, it's your duty to compare different software solutions until you find one that best meets your needs and those of the institution.
Additional resources to help you learn more include books, blogs, video scripts, and research and technology websites. Do you want to learn more about music teacher booking software?