Finding the perfect nanny can be a life changer for your family. Do you live in the UK? This article will help you discover various local nanny services in the region. In the end, you should be able to find the right nanny for your specific needs.
How do you Find Local Nannies?
Finding a hardworking, trustworthy individual who can provide home childcare gives you peace of mind to focus on other critical matters. One of the key ways of finding a good nanny is through recommendations from family and friends, advertising available vacancies, or through an agency. Begin your search by writing a job description of the candidate you are looking for, their skills, experience, and qualifications. Being specific helps you eliminate time wasters while allowing you to find the perfect candidate.
Suppose you choose to find the ideal candidate through an agency. They will eliminate the pressure of checking backgrounds and references and conducting DBS checks. If you are working on a budget and can't afford an agency, consider posting nanny job adverts on social media or in local magazines and newspapers.
Nannies don't require formal childcare qualifications, but having first aid and CPR certification can set them apart. While nannies don't have to be registered, they can opt to register with various public bodies in the UK. Remember, Ofsted-registered nannies have comprehensive CRB checks.
How much do most Local Nannies Charge?
The average rate for local live-out nannies ranges between £12 and £16 per hour. Full-time nannies charge between £400 and £650. Part-time nannies may charge up to £15 per hour.
What are the Advantages of Hiring a Local Nanny?
A nanny can understand your child's needs better or quickly notice any changes, talents, or interests. Nannies can even send you photos and texts during the day to help you connect with your child. Other reasons why you should consider hiring a local nanny to include the following:
· Nannies Create a Familiar and Safe Environment
Children can be scared when their parents leave, even for a short period. A nanny helps them get familiar with someone else in their home's safety. The nanny can comfort them during their parent's absence and help them get along during play times. Parents can have peace of mind knowing their children are well taken care of, and any emergencies will be handled immediately.
· Nannies Help Manage the Morning Chaos
If you have school-going children, you know that getting them out of bed and ready for school can be chaotic. A nanny provides extra help to ensure the kids are not late for school. If your children are younger, a nanny will help clean, dress, and feed them in the morning, allowing you to prepare for work quickly.
· Experienced Caregivers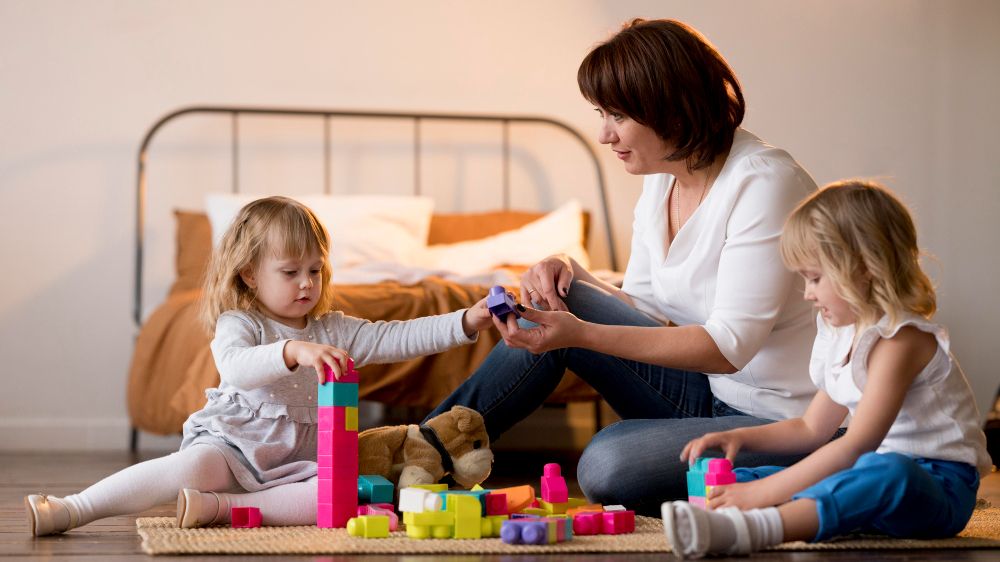 Often, nannies already have comprehensive childcare experience. Some have professional qualifications and training related to teaching or childcare development. This training and experience mean that the nanny is prepared to deal with situations as they arise. Further, hiring a nanny can be crucial for first-time parents. Apart from helping with a newborn baby, they can help the parent answer child development-related questions.
· They Relieve Parents from Pick-up and Drop-off Duties
Balancing your schedule can be daunting, especially if you have a 9-5 job. A nanny can help drop off and pick up the kids from school, giving you time to focus on your schedule.
· Nannies Help Manage Other Tasks
Besides childcare, a nanny can help around the house with other tasks like assisting children with homework, meal preparation, and house cleaning.
· Nannies Can Remain with Your Family for a Long Time
Having a nanny work for you for a long time means that kids don't have to adapt to a new person now and then. They can get used to and trust one person. Parents don't have to worry about finding a new nanny every so often, which can be daunting.
15 Best Local Nanny Services in UK
Here are some of the best local nanny services in the UK.
1. Night Nannies
Night Nannies provides round-the-clock newborn care and overnight maternity care until mom and baby no longer need assistance. This local nanny service provider also provides sleep trainers for parents with older babies. Founded in 1999, the facility started with six nannies but today has more than 300 night nannies working across London.
2. Nanny & Butler
Nanny & Butler is among the best nanny agencies in the UK. It boasts over ten years of experience providing nannies in various parts of the UK, such as Hampshire, Surrey, Sussex, and Essex. Nanny & Butler is committed to providing highly skilled, dedicated, experienced, and knowledgeable nannies based on each family's preferences.
3. Heavenly Au Pairs & Nannies
Heavenly Au Pairs & Nannies is a London-based nanny agency that places junior nannies, Au Pairs, nanny housekeepers, maternity nurses, companions for the elderly, and nanny PAs. The team strives to place the right nanny with the right family. Heavenly nannies have many years of personal and professional experience in childcare, allowing them to offer the best service. Candidates from Heavenly Au Pairs & Nannies are interviewed, and their references are checked for authenticity.
4. Elisa's London Nannies
Elisa's London Nannies have been in the industry for over 20 years. It has a vast network of nannies from different parts of London and surrounding areas. All candidates under this agency have at least two years of paid experience. Further, they undergo a comprehensive interview to ensure they are fit for the job.
Elisa's London Nannies have a reference-checking system that helps them evaluate all their candidate's qualifications and documents. Besides having pediatric first aid training, all candidates go through DBS checks. The agency offers you a smooth recruitment process at cost-friendly prices. Whether you are looking for babysitters, housekeepers, or mother's helpers, you will find them from Elisa's London Nannies.
5. Elite Sitters
Elite Sitters was established to help parents with a 9-5 working schedule access trusted and professional childcare. They understand that more families require trustworthy childcare outside conventional working hours and are committed to providing suitable candidates to meet your needs.
6. Fulham Nannies
Fulham Nannies are popularly known for placing highly experienced and skilled nannies with great families across London. They give parents a personalized nanny placement service customized to suit their needs.
7. Polo & Tweed
Polo & Tweed is a domestic and luxury service recruitment specialist that strives to provide a wide range of domestic staff, such as chauffeurs, chefs, and housekeepers. Domestic staff from this agency can work in hotels, chalets, yachts, and households in the United Kingdom. The team is committed to offering a personal, discreet, and friendly service. Plo & Tweed sources candidates from around the globe and gives clients skilled and professional staff. Established in 2013, Polo & Tweed focuses on customer satisfaction.
8. My Nannies
My Nannies combines a traditional nanny agency and a modern job platform to cater to the different needs of its clients. It is a digital nanny placement agency based in London that specializes in finding au pairs and nannies for families on a permanent or temporary basis. My Nannies uses advanced technology to offer an exhaustive and cost-friendly service.
9. SureCare Chelsea & Fulham
SureCare Chelsea & Fulham is fully regulated by the CQC (Care Quality Commission). All care staff from this agency go through enhanced DBS checks and clearance. Established in 1994, the agency offers a wide range of services, including live-in care, home services, home care, and childcare.
10. KiwiOz Nannies
KiwiOz Nannies believe that home is the right place for your little ones to start their learning journey. The agency helps you find the right nanny to help care for your kids in a safe and familiar environment. Nannies from KiwiOZ are trained and experienced to help children become independent and confident. Working with this agency gives you access to prompt service, friendly support, and excellent-quality candidates. KiwiOz connects you with a consultant who helps you find the right nanny that meets your family's needs. Whether you are looking for a babysitter, live-in or part-time nanny, you will find competitive staff at cost-friendly prices,
11. Monica's Nannies
Monica's Nannies offers unique childcare services in central London. The team strives to recruit experienced and qualified babysitters and Nannie. Monica's Nannies is committed to providing clients with childcare professionals that meet their needs.
12. Little Steps Agency
Little Steps offers customized childcare services for different occasions. This events and nanny recruitment agency help you find qualified and skilled childcare professionals, live-out nannies, daily nannies, live-in nannies, holiday nannies, maternity nannies, and babysitters.
The agency conducts a thorough screening process to check each candidate, saving families lots of time. Little Agency verifies each candidate's employment records, identity checks, qualifications, and references. The facility was established in 2020 and can provide temporary, part-time, and full-time staff.
13. 3D Child Care
3D childcare offers tailored services to meet a parent's and their child's needs. Apart from providing babysitting and nannying services, plans are underway to provide pick-up and drop-off services and childminding spaces.
14. Nanny Scout Berkshire
Nanny Scout Berkshire is a professional recruitment service provider for busy parents with branches in Surrey, Berkshire, and The Cotswolds. Families don't pay registration fees before working with this agency. Nanny Scout strives to help families recruit temporary and permanent staff such as maternity nurses, babysitters, housekeepers, and nannies. The agency also provides event childcare for the private and corporate sectors.
15. Richmond Nannies
Richmond nannies is a childcare service provider that offers professional services in Middlesex, Surrey, and London. It offers support from the introduction phase and after the nanny has been placed with your family.
Conclusion
Finding the right nanny within your postcode doesn't have to be a struggle. Whether you have a one-year-old or older child, you can find suitable candidates from the local nanny service providers above. Check our website for more insights on finding the right nanny for your family.
Image Credit: